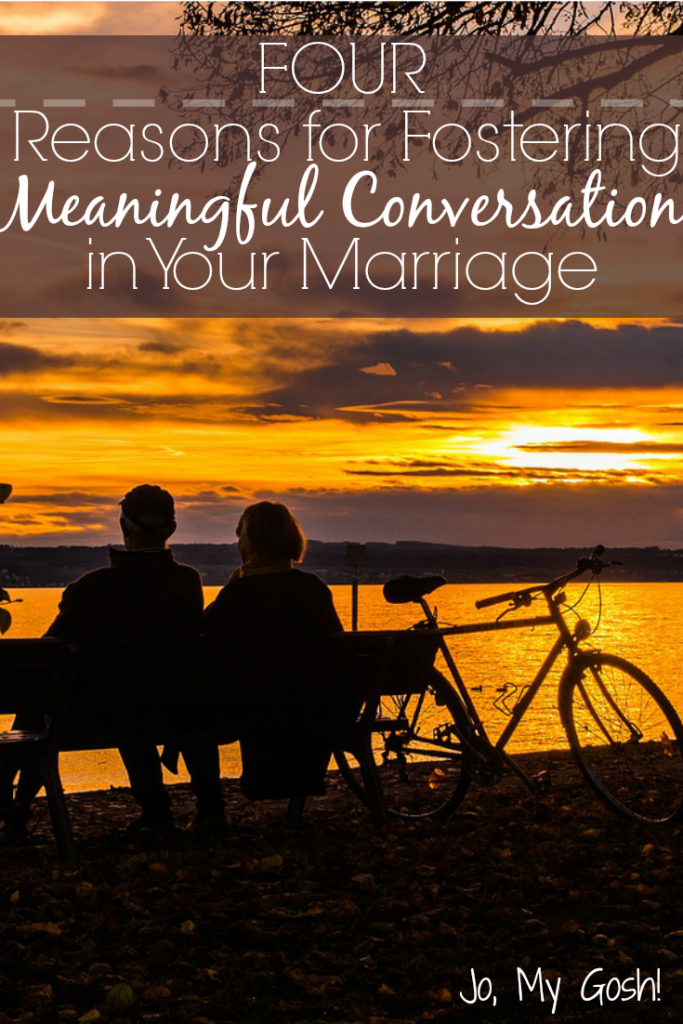 Today I'm co-hosting this post with Cassie from
True Agape
! We all know that talking to our spouse is probably a good idea. I mean hopefully you enjoy talking to your spouse and you want to initiate conversation! Today, Cassie and I are going to be talking about reasons for meaningful conversation and end with a giveaway that can help create those kind of conversations for you and your lover!
It is at the heart of any strong relationship.
Conversation and communication are important in any relationship, but they were absolutely integral in ours. John and I were friends in college (and even went on a miserably failed date); we only reconnected a few years later when John went to boot camp and I wrote him a letter. An exchange of letters eventually turned into Facebook chat which turned into hours-long phone calls. For 10 months, phone calls were the only thing we had—it wasn't possible for us to meet up. So we talked… and talked… and talked about everything. We had talked so much and about so many important subjects and topics that I knew I wanted to marry John even before we had a chance to meet up. Crazy, right? When John was deployed to Afghanistan, we ended up back where we started—letters and phone calls. By the time we married, we had spent more time in a relationship over the phone than we had spent in real life. Without true, deep communication, we could never have gotten past the first few month of our relationship, not to mention John's deployment.
[Tweet "Conversation: It is at the heart of any strong relationship. @TrueAgape @JoMyGosh"]
 

It's fun!

One of the first things I loved about John was just how much fun he was to talk to. Don't get me wrong—we have a lot of serious conversations, too. But the overwhelming majority of our conversations are fun. I love hearing his opinions; I love making him laugh. We debate with each other and push each other. We share information and ideas. We joke and tease.  We genuinely enjoy spending time together. Since so much of our relationship was long distance, I thought that the novelty of conversation might wear off once we were living in the same place. Nope. We are still chatterboxes to the extreme—so much that while we're traveling we rarely turn on the radio to fill time. Even when the road trip is eight hours long!

[Tweet "Meaningful Conversation: It's fun! @TrueAgape @JoMyGosh"]
Some thoughts from Cassie…
It helps you learn their goals and dreams.
As Ryan and I got to know each other we spent hours talking about our goals and dreams in life. It was a way for us to really get to know each other to the core. The thing is even though it is years later and are married now we still talk daily about pursuing our goals, the challenges that we are going through and what goals we plan to approach next. If it wasn't for the endless hours of deep conversation in the beginning of our relationship I truly don't think we would have the connection that we do now.
[Tweet "Conversation: It helps you learn their goals and dreams. @TrueAgape @JoMyGosh"]
It aids in a connection that only you two have.
From the conversations that Ryan and I have, I feel a deeper connection between the two of us. We talk about our goals, dreams, hopes and desires in a way with each other that we don't talk to anyone else. In our conversation we know the other is listening, supporting, giving advice and feedback in an open and honest way. We have a trust and vulnerability with each other when we have these types of conversations. If it has been busy and we haven't got to have conversation like this in some time I start to long for it, to long for that connection that I only have with Ryan.
[Tweet "Conversation: It aids in a connection that only you 2 have. @TrueAgape @JoMyGosh"]
Giveaway!
To help get your conversations started, we wanted to give you this:
So simply complete as many options as you would like below for your chance to win!
How to use the book:
1. Read one conversation starter every night at dinner.
2. During an advertising break during a TV show or during a time-out during a game, read a conversation starter.
3. Leave the book on the coffee table or another high-traffic area.
4. Keep the book in the car for long road trips.
5. Take a picture of one of the conversation starters and text it to your significant other to begin the conversation when you can't talk directly.
6. Pack the book on vacation with you.
7. Keep the book in your bedroom and use it as way to close your day.
8. Grab a coffee or ice cream and the book for a date night.