Care packages can be very expensive, between what goes into the box and the cost of shipping. If you're the only one sending mail to your deployed loved one, it can be overwhelming emotionally and financially. A little extra help can go a long way, even when it is
And yes, there are businesses and organizations that– whether it's their corporate responsibility program or because they have a connection to the military–want to send products to service members who are currently deployed.
These organizations are known to send anything from free products to free, entire care packages. These aren't samples… they're robust items and boxes, sent to military members. Check them out… and make sure that you also read my post about eight other organizations that send free stuff to deployed service members.
1. Dunkin' Donuts
DD has been known to send coffee to deployed service members. You'll need to submit their information as well as yours for a chance at their coffee lottery. Choose "military coffee request" from the drop-down menu when you click this link.
2. Operation Support Our Troops
Operation Support Our Troops sends care packages to those who are overseas. You can submit your service member's information here to this 4-star Charity Navigator non-profit.
3. SeaBear Wild Tuna
SeaBear ships crates of wild-caught salmon in ready-to-eat packets through their Treat the Troops program. They send enough to be shared with a unit, which is lovely. Find more information here.
4. Dogtags For Kids
This organization provides free engraved dog tags that are given to service members in high-conflict areas so they can mail them home to their children as mementos from their parents. To request dog tags, click here.
5. Books a Million
Books a Million has a program that provides free books to deployed service members. To get your loved one on the list of recipients, click here.
6. Operation EBook Drop
This Facebook page keeps a running list of free ebooks available for download, including special offers for service members.
7. Operation Paperback
For many service members, books are a welcome diversion from deployment. Operation Paperback sends books to deployed service members. Here's how your service member can get on the list.
8. Operation Caramel Corn
Naper Nuts and Sweets, a business in Illinois, sends 1,000 bags of caramel corn a week to deployed troops. Here's how to request that your service member is sent one of those bags. Naper Nuts and Sweets also gives folks the opportunity to donate to the project, so if you're able, pay it forward and donate a bag or two.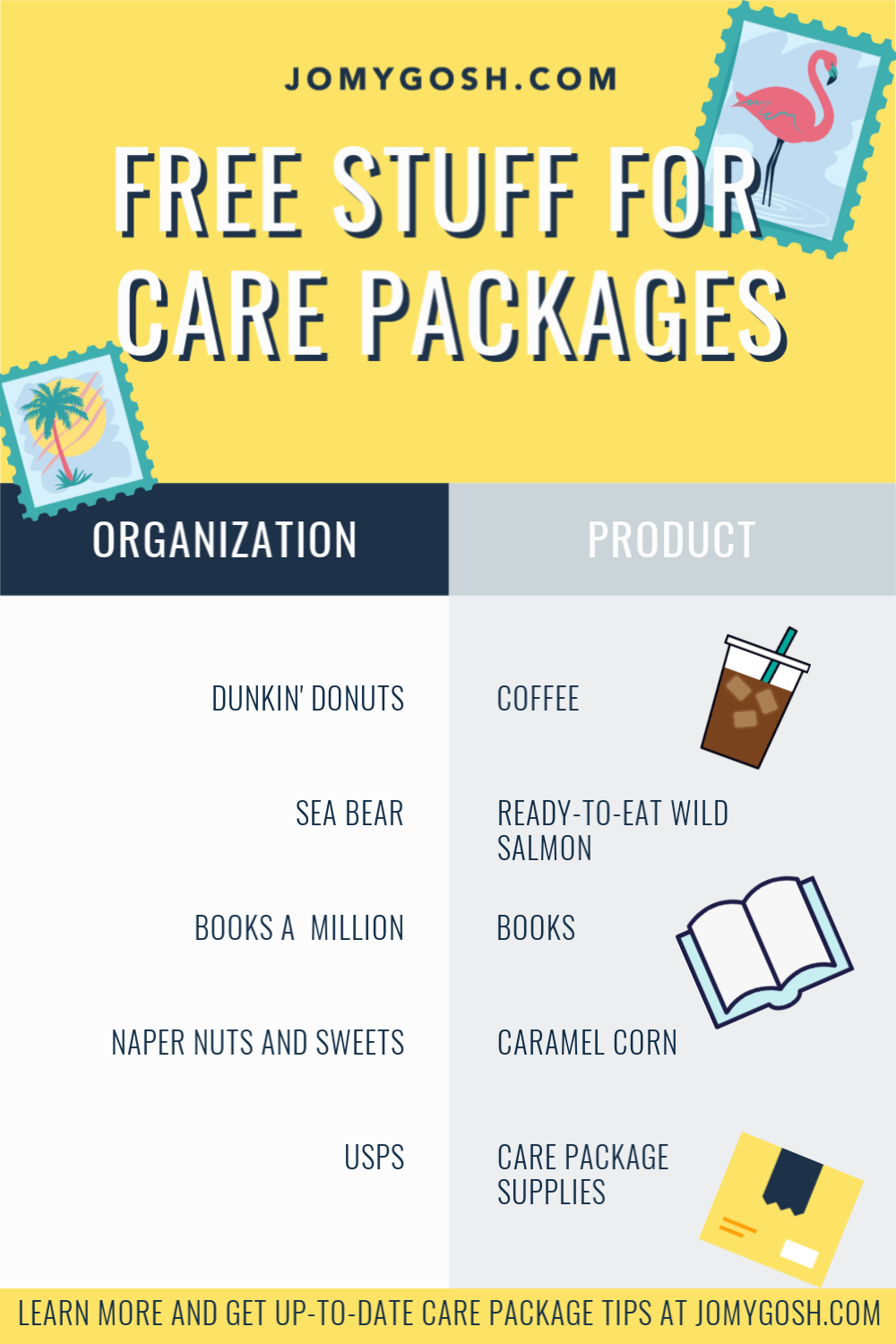 9. Nuts.com
Nuts.com sends care packages to deployed troops. You'll need to email their customer service to get a loved one's name and address on their list. More information can be found here.
Please note: I am not affiliated with any of these programs and cannot troubleshoot or help resolve any issues you may have. Please direct your questions to each individual organization.
Keep reading…