This is a sponsored post written by me on behalf of USAA Life Insurance Company and USAA Life Insurance Company of New York. All opinions are 100% mine.
Let's be real.
Talking about life insurance is not how most people want to spend a Friday evening. Or any evening. Or any part of the day, really. And that goes for civilians as well as military folks.
Talking about life insurance makes us face not only our mortality, but our loved ones', too. It's uncomfortable. And when we don't talk about life insurance, we don't learn about it or think about it or even question what we're doing with it.
And that's exactly why we should be talking about it.
Because life insurance isn't something to be afraid of. It's not an after thought. It's not taboo. And it's certainly nothing to be wary of. It's a tool to ensure your family's financial wellbeing, no matter what happens in the future.
You wouldn't build a house without a foundation. Don't build your family's finances on a foundation that isn't shored up with a life insurance policy.
The great news for military families? There are extra tools for your family's financial foundations thanks to Uncle Sam and organizations that cater to military families' unique and specific needs when it comes to life insurance.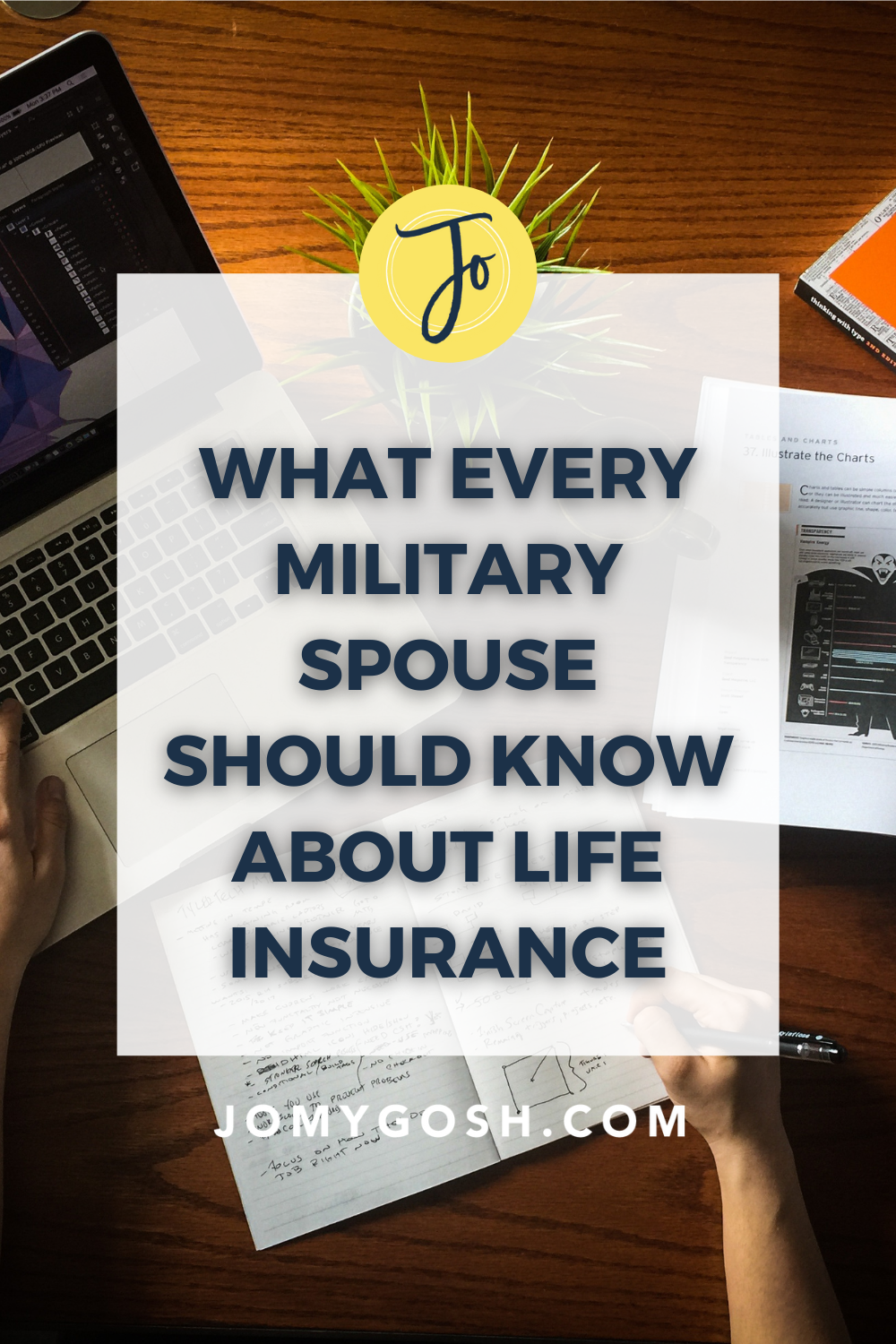 Let's get down to brass tacks and jump in. Here's what every military spouse should know about life insurance:
Protect Your Family's Future With Life Insurance Benefits
Let's talk about some of the big misconceptions when it comes to life insurance and military spouses.
A lot of military spouses are under the impression that Servicemember's Group Life Insurance covers them, too. Spoiler alert: it doesn't. SGLI is only for military members. (If you're a military spouse who is also a service member, that's a whole different story because you have a SGLI policy separate from your spouse to cover you.) There is a program called FSGLI for families (which we'll talk about in a minute).
And a lot of military spouses also assume that only folks with salaried jobs should get (or can afford) life insurance. That's not true on both counts. If you are unemployed (either by choice or circumstance) or underemployed, you should still protect your family through a life insurance policy… and there are policies out there that are affordable, too!
And let's get this out of the way, even if you are not traditionally employed and are currently contributing to your family as a stay-at-home parent/spouse, there are costs associated with your domestic work that life insurance can cover. (But more on that later.)
Find A Policy That's Right For You
If you're not serving in the military yourself, you can't get life insurance through the military. You can get it through a private insurer. And that's exactly where USAA comes in.
Chances are, you probably have a car or house insurance policy with USAA. If you don't, you definitely know someone who does. They have life insurance policies for you, too.
One of the things I absolutely love about USAA is that they understand military families and military life, not only because they cater to military folks, but because so many of their employees are veterans, military spouses, or are otherwise connected to the military experience. They offer a suite of life insurance options that provide peace of mind and financial stability to military-connected families.
Learn The Specifics Of SGLI and VGLI
Let's start out talking about the two kinds of military life insurance that most service members and their families know and understand: SGLI and VGLI.
SGLI stands for Servicemembers' Group Life Insurance  People eligible for SGLI include active duty military members (including those in the Coast Guard), commissioned members of National Oceanic and Atmospheric Administration or USPHS, cadets or midshipmen at one of the country's military academies, Reserve Officers Training Corps (ROTC) members, cadets, or midshipmen in authorized training or practice cruises, Ready Reserve or National Guard members (with some stipulations), or a Individual Ready Reserve volunteer (with some stipulations). Service members who qualify are signed up automatically. SGLI coverage can deliver up to $500,000 in $50,000 increments. You can learn more about SGLI benefits through the VA's website.
SGLI also has some extra options, notably:
Service members enrolled in SGLI are also enrolled in Servicemembers' Group Life Insurance Traumatic Injury Protection (TSGLI). This benefit provides support in case of a traumatic injury (specifics can be found on the VA's website).
If your service member is covered under full-time SGLI, you and your dependent children qualify for Family Servicemembers' Group Life Insurance (FSGLI). Spouses can be covered for up to $100,000 (although you cannot exceed your spouse's current coverage) and children can be covered for $10,000. Spouses married after 2013 are not automatically enrolled in the program.
VGLI stands for Veterans' Group Life Insurance and is only available to veterans under certain circumstances through the Department of Veterans Affairs. You can double-check those stipulations at on the VA's website to see if your veteran qualifies. VGLI term benefits can range between $10,000 and a maximum of $400,000 (again, depending on individual circumstances).
What Are Your Options?
A military life insurance policy is one piece of the financial puzzle, but it's not the whole thing.  Let's talk a little bit about private life insurance options, which can help to bridge gaps that SGLI or VGLI might not close.
Term Life Insurance
Term life insurance isn't a permanent policy. It's available for a certain amount of time at a higher amount of insurance coverage than other options. Term life insurance is best used tactically, for a specific purpose– like when you might cover student loans or a mortgage. It's not a solution for the rest of your life. When the policy ends, renewing might be more expensive and/or cover less.
Permanent Life Insurance
Permanent life insurance policies offer a lifetime of coverage and have a death benefit. A whole life policy is a type of permanent life insurance policy. Private insurers may have different permanent life insurance options. For example, USAA offers Simplified Whole Life, Universal Life, and Guaranteed Whole Life. As an added benefit to a permanent life insurance policy, part of your premium is interest-earning which you can access while you're living.
How Much Coverage Do You Really Need?
Just like every military journey is different, every plan for life insurance is different, depending on your family and your needs. Determining what your family needs, including your big risks, is a process. It might take some time to gather the information you need to make the best decision for you… but it's worth it when it comes to the benefits of having a right-sized policy and the peace of mind you'll have.
While you'll want to speak to the fantastic folks at USAA when you're choosing your life insurance coverage, you can take the first steps in determining what products are right by you by tabbing up:
Your liabilities (like loans and mortgages)
Five years of your income that will need to be replaced by the policy
An average for your final expenses
Any extra funds that your family might need (like educational funding, child care costs, a rider for a child, etc.)
If you don't currently have income, think about the cost of your labor in your family. Sure, you might not be drawing a wage or a salary right now, but the work you do has value. If you're not able to do that work, what will your spouse need to outsource to keep the family running? Consider the costs of child care and daycare alone. The services you provide your family have value. Make sure to factor that into your numbers.
Don't Wait To Sign Up
Life insurance sometimes seems like a monumental decision. And waiting to make that decision could cost you in a few ways. Most life insurance policies' premiums go up the older you get, making it more financially sound to lock-in your life insurance costs as young as possible. Even if you're not worried about those particular costs, the cost of doing nothing could be devastating to your family. That's something you don't want to pass on to your kiddos or your spouse.
But the good news? It's easy to get started.  You can visit USAA Life online for a personalized assessment of your family's needs. If you'd rather talk person-to-person, call 800-531-LIFE for a conversation with a USAA life insurance specialist who can answer your questions.
And one more thing…
Be the first to grab your free ticket to the only virtual deployment retreat for military spouses and significant others, PILLAR Deployment Retreat. Thanks to USAA Life Insurance Company and USAA Life Insurance Company of New York, we're able to offer three full days of expert sessions, giveaways, and support all for you!