This is a sponsored post written by me on behalf of Navy Federal Credit Union for IZEA. All opinions are 100% mine.
Spring is in the air… and so are taxes… and so is PCS season. And with all of those things often come a little bit of financial anxiety. There's the general stress and frustration of taxes, the new activities and vacations that are hallmarks of spring and summer, and then of course, the extra burden of PCSing. There are quite a few things that military families can do now to help with spring cleaning your finances. Most of them take little time and are pretty painless. All of them can make a difference in your budget and your savings.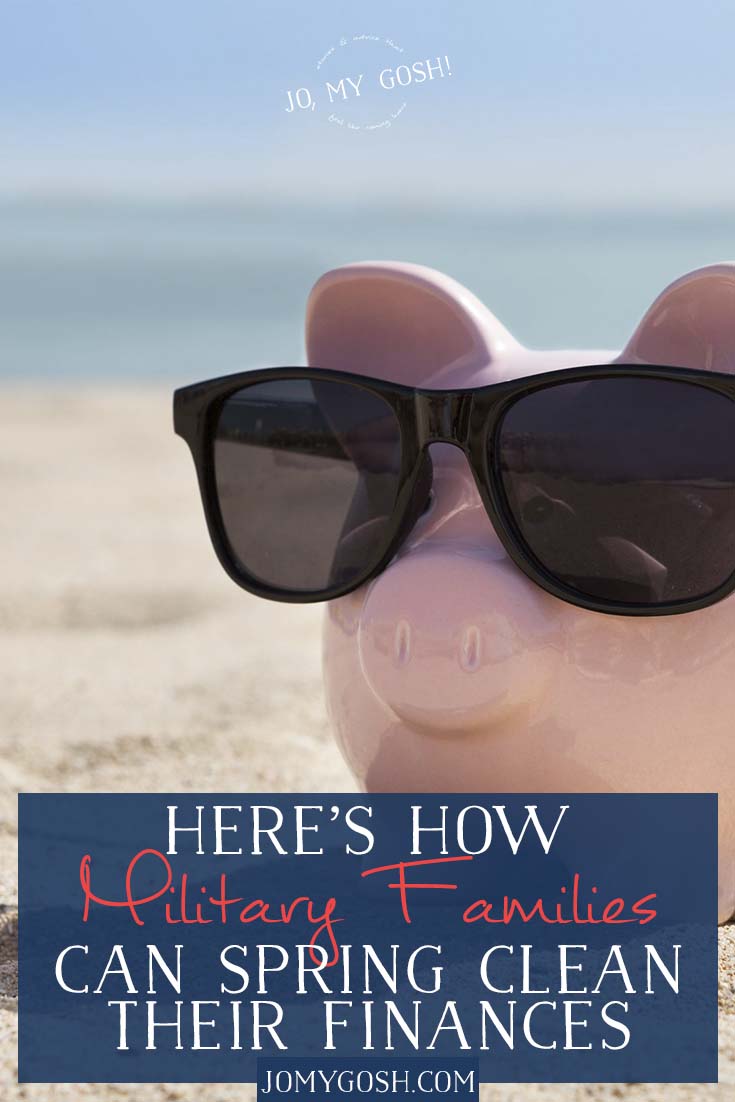 Get rid of what you don't need
Unless you are on a bare-bones budget, chances are you have a few areas where you're needlessly spending money. Maybe there's a gym membership you never use that keeps auto-billing. If you have subscription boxes, magazines, digital downloads or apps that auto-bill, you also want to think about removing or downgrading them so you can save money on subscriptions. Maybe you're spending money on a storage unit that's only half-full and could be moved to a smaller, cheaper one. Or maybe there's that dance class your kid really isn't into, but you've been too nervous to quit. Take a look at what's going out of your budget and what you can do without. Then–snip, snip–make the cut.
Grab your phone
Once you've taken a look at–and gotten rid of–what you don't need, you'll want to focus on what you do need. Many services and products can be negotiated, and taking some time at least once a year to do that can make a big difference. Consider re-upping a contract for a longer time at a lower rate, asking for a military discount, or seeing if you can downgrade certain services that you don't use all of the time for significant savings.
Take a look at your accounts
If you have multiple savings and checking accounts, you might want to diversify or consolidate, depending on the specials and interest rates that are available. Navy Federal Credit Union often runs fantastic specials on short-term Certificates with comparatively high rates.(Why not let your money work for you?) You want to make sure that you can do without that chunk of cash while it's earning in the CD, since you can't access the funds until after it matures.
Host a yard sale
Spring is a fantastic time to haul the stuff out of your garage and sell or donate it. In-person yard sales–especially community ones– can be an easy way to make a little extra money and ensure that you're a little closer to being PCS-ready. (And remember, getting rid of stuff now doesn't just mean a little extra in your pocket; it also means you're less likely to be charged for overages when you have to weigh your stuff when you move.) If you sell online, make sure that you're doing it safely–never meet someone by yourself or at your house. Always have a neutral meeting point in a brightly lit, well-populated area and make sure that other people know where you're going. Sometimes local police stations allow for online sales transactions to happen in their parking lot. Check with your precinct to see if this is a service offered in your area.
Put aside an evening
I know it's tough, but try to put aside an evening in the spring where you and your spouse can focus on your annual budget. Take some time to review it… and be honest. You want your budget to be honest and something that you can actually use.
Save that tax refund
It might not be realistic for your family to save all of your tax refund, but you want to try to save at least a portion of it. It's even better if you can take some of that refund and put it into a high yield CD or savings account to help you prepare for transition or retirement from the military. At the very least, refrain from making a big, unnecessary purchase–no matter how fun it might be–with your tax refund. If you really want that super fun thing, consider purchasing it in the summer so that it's not an impulse buy.
Review your processes
It's easy to get into habits… and they're hard to break out of. This spring, save money by taking a deep dive into where you spend your money. For many military spouses, buying at the Exchange and Commissary are easy and close… but do they actually have great deals? The answer completely depends on where you live, how far you'd have to drive to other stores, the price of gas, how much convenience is worth to you, and the prices and specials at the stores themselves. If you do a lot of Amazon shopping, consider using a program like Honey to help you price check and find the cheapest deals on line… because Amazon does not always have the lowest prices. If you constantly are throwing away perfectly good food because you don't eat it in time, consider reevaluating your meal plans. You may need to stop buying so much, find a better way to utilize leftovers, or refrain from eating out. It might even actually make financial sense for you to have food delivered to you through a grocery service or subscription box service so you don't overbuy.