This is a sponsored post written by me on behalf of 1 Natural Way, a TRICARE breast pump provider. All opinions are entirely my own.
Having a baby can be an exciting–and kind of scary– thing. The great news for military-connected military moms is that there are a ton of supports out there to help through challenging times. Whether you're going through this pregnancy on your own while your spouse is deployed, you're a service member and a mom-to-be, or you're a new mom who needs a little financial help (or something else!), there's help out there for you.
I've collected the best free resources that will help you get off to an awesome start as a new mom in the military community. You've got this.
Deployment communication
If you give birth during a deployment and do not have reliable communication with your spouse, you can get free help to get word to them through your FRG or ombudsman.
The Red Cross can also help; check this page for a toll-free number to call and more information.
Doulas
Doulas are trained to support a woman through the birth process. They're different from doctors, nurses, and midwives because their focus is on moral support and help, rather than medical help. The Military Doula is an organization that pairs pregnant military wives with trained doulas who volunteer their time. Right now there are 76 doulas who want to volunteer their services.
Operation Special Delivery offers discounted doula services to military spouses who meet certain criteria.
Free baby showers
There are quite a few organizations that provide free baby showers to military moms-to-be. For many pregnant military spouses and service members, having a baby can be a little lonely. Far away from home and perhaps dealing with deployments and separations, they may not have the support system (at least close by) that many other expecting moms often have. These programs bring the support, celebration, and yes, fun prizes and gifts, to women who might need a little extra morale boost. Some of these programs also go OCONUS to make sure that families stationed abroad also get a little extra special attention. (Some of these program focus on younger families who are enlisted or lower-ranking, recognizing the financial strain a new baby may have on the family.)
These programs include:
Goodies for Navy and Marine families
Complete the Budget for Baby class if you're a Navy or Marine family stationed on a Navy or Marine base through the Navy-Marine Corps Relief Society. Upon completion, your family will receive a Junior Sea Bag filled with a bunch of things to help make baby's room a little cozier–including a handmade baby blanket.
Care packages
Soldiers Angels' Baby Brigade and deliver care packages to families "1) Have a deployed parent or be an active duty female service member AND 2) be expecting a child OR have a child under the age of one." You can submit a family (or yourself) for a gift basket that's filled with goodies, including handmade things from volunteers. And (how cute is this?) every one who receives a gift from the Baby Brigade also will receive a virtual baby shower from real-life volunteers across the country.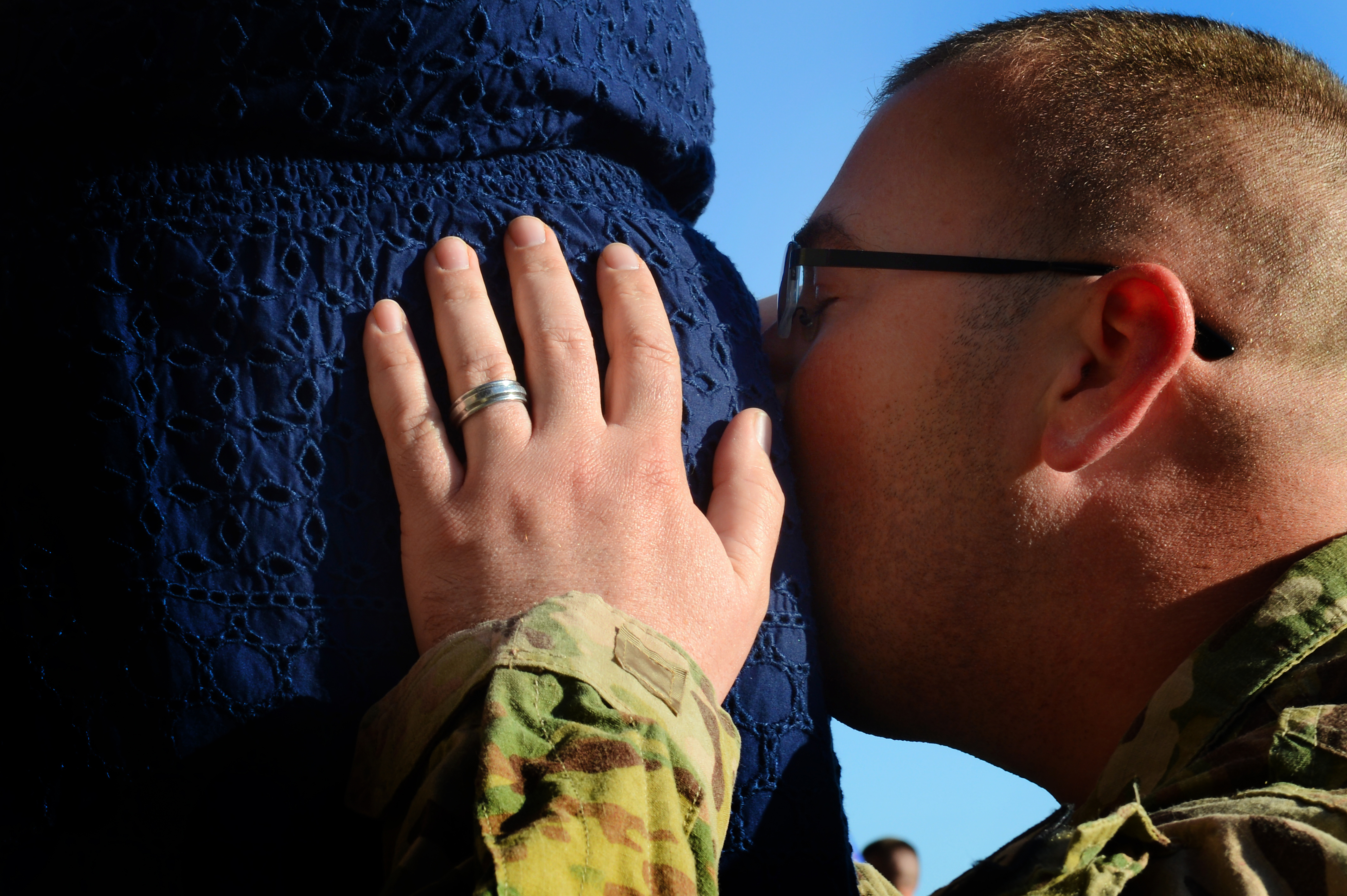 Carriers, wraps, and slings
Will purchasing a baby carrier, wrap, or sling for your little one create a financial hardship for your family? The Carrying On Project wants to make baby-wearing a little easier and cheaper for financially struggling military spouses with partners on deployment. Just fill out a form on their website and they will do their best to match you to your request.
Breast pumps and supplies
You might know that TRICARE provides breast pumps for pregnant and new moms. But did you know that you also can get a full range of supplies from TRICARE also at no cost too? 1 Natural Way is a TRICARE breast pump provider that does all of the work for you (seriously!). As long as you have a prescription for a breast pump from your primary care manager, you can take advantage of those fantastic benefits and 1 Natural Way can make it super easy. And you can get state-of-the-art, awesome products from 1 Natural Way like Kiinde, Medela, and Spectra, not to mention the Medela Freestyle Spectra S1 Breast Pump, and the Medela Pump in Style Tote/Backpack… all at no cost or very, very little cost to you, through your TRICARE benefits.
Here's what you need to do:
Fill out the insurance information form found here.
Pick the breast pump model you like. (And there are no tricks here– all of the models that 1 Natural Way provides are covered by TRICARE.)
Enroll in 1 Natural Way's program, Resupply, so you get breastfeeding accessories and supplies delivered monthly
Upload your prescription (and if you don't have one, just pop in your doctor's info and 1 Natural Way will do the sleuthing work for you)
Open the door and pick up the box of pump and supplies delivered to you by UPS or USPS.
Breastfeeding counseling
TRICARE offers free meetings with a breastfeeding counselor after the birth of your child in a few ways: as an inpatient maternity stay, as a follow-up outpatient visit, or as a well-child care visit. In fact, you can get up to six outpatient sessions with a specialist completely free to you as a benefit of your healthcare.
Medical care
TRICARE offers comprehensive prenatal, birthing, antepartum, post-partum, and ultrasound care services for moms and babies. There are tons of possible services depending on your needs as you progress through the pregnancy. You can check them all out here. Depending on your TRICARE services, there may be some fees for some services.
Nutrition and grocery help
Depending on your household's income and the amount of children you already have, you may qualify for WIC (Women, Infant, and Children). The government program is administered state-by-state, but it offers a variety of benefits, including nutritional counseling and food coupons for healthy foods like milk and whole wheat bread. The coupons are accepted at grocery stores, including the commissary.
Other ideas
Keep your eyes and ears open when you're on base. There might be free prenatal exercise classes at the gym or rec center (pregnancy yoga, anyone?). Maybe there are budgeting classes or installation-specific celebrations, organizations, or events that are being offered for pregnant or new moms.
Remember you can get free legal help from your JAG office on base, which can come in handy, especially if your spouses is deployed or soon to deploy.
Check your base's thrift store for furniture, baby books, toys, and clothes–especially if you know you're going to PCS soon and will need to purge a lot of extra stuff. Your thrift store is probably run by an on-base non-profit that supports the community through its sales… so not only are you getting good stuff cheap, you're also helping to fund activities and scholarships for the people in your community.
And finally, always ask for military discounts when you're shopping for baby things and new furniture. It can't help to ask!