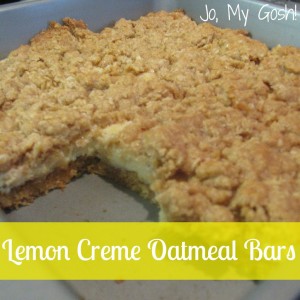 This week, I'm doing something I've never done before! Woo! From April 22nd to April 26th, Julie of
Natural and Free
and I
are hosting a Spring Fling via a great little link-up party! Link up anything spring– recipes, crafts, gardening, spring pictures… If it's spring-related, we want it (just no giveaways or other link-up parties, please)!
On April 27th, we will each feature our top three favorites! There is no limit to how many posts you can link-up, so feel free to bring on the Spring fever with your amazing posts! We can't wait to check them out!
This week, I'm going to be posting a lemon-flavored recipe a day. I don't know about you, but nothing says "Spring" like lemon! I'm starting with my absolute favorite: Lemon Creme Oatmeal Bars.
I took these little babies to school at the beginning of the year and was asked by multiple people for the recipe. The thing is, it's really an easy recipe, with a delicious result. (And it makes you look like a baking genius!)
I found this recipe on
Just Call Me Maria
. It's not my recipe
,
however, I'm posting it here with my edits. If you want a completely from-scratch recipe, mosey on over to her blog. I am not posting it here simply because I didn't try it out.
You'll Need:
1/2 cup butter

1

pouch Betty Crocker oatmeal cookie mix

1 egg

1

14 oz can sweetened condensed milk

2 teaspoons lemon zest

1/4 cup lemon juice
Directions:
Preheat oven to 350 F.

In a large bowl cut butter into the cookie mix.

Stir in the egg until the mixture is crumbly.

Press half of the dough into the bottom of an 8 x 8 greased pan and bake it in the oven for 15 minutes.

In a small bowl mix the sweetened condensed milk, lemon zest, and lemon juice until thick and combined.

Spread lemon mixture over baked crust and evenly crumble remaining dough on the top.

Bake another 25 minutes or until the top is golden brown. Let cool and refrigerate until set. Store in the refrigerator.
So, what are you waiting for? Grab a badge, get linking, and tell your friends! The more the merrier!