Disclosure: I received product from MistoBox for a review. I only review and endorse products that I enjoy and believe that my readers will, too. All opinions are my own. This blog post contains affiliate links.
Today, we've been married six months! One of the things that I knew getting married to John was that he loves coffee. After all, during our first date, we went to two separate coffee shops so that John could get coffee. He had driven four hours to our date and had to drive four hours back at the end of it, so I'll cut the guy some slack.
That's why when I was given the opportunity to review
MistoBox
, a subscription box service that supplies gourmet coffees on a monthly basis, I was stoked.I'm a sucker for anything cute, so even though coffee's not my thing, I was excited to open the box and see what was inside. I mean, with a stamp like this on the front of the box, how could you not be enthused?

Inside were four different tester bags of coffee from four different roasters with beans from around the world. MistoBox also packs a info card so that you can learn about each coffee and gain tips for brewing them. And how about that cute pattern!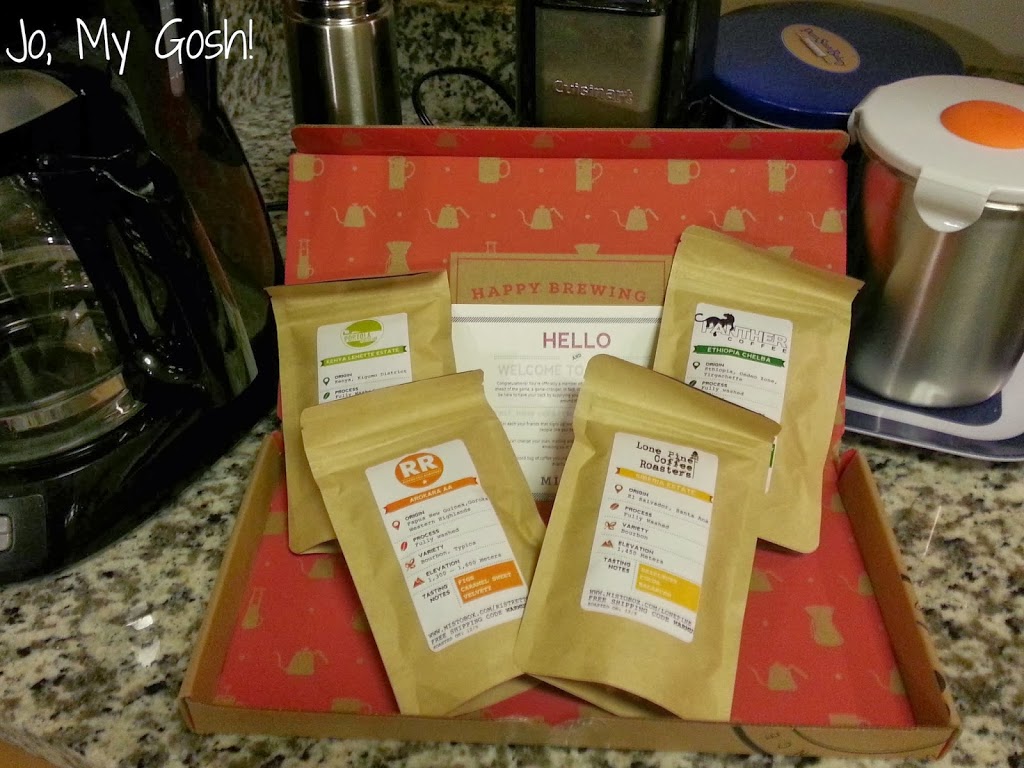 As for the coffee, John gives it two thumbs up and cautions that these coffees aren't ones that you'd want to throw in a travel mug and drink mindlessly as you're driving to work. Drink them on a Saturday while you're reading the paper and really enjoy them– they're unique, flavorful coffees.
MistoBox's website also has a well-stocked marketplace where you can buy the coffees from your box that you loved along with other coffee paraphernalia.  They also offer a rewards program where you can redeem earned points for purchases on MistBox.