I don't usually write about things I haven't experienced or haven't done because I am totally committed to being authentic for you! (I mean, what's the point of reading a lifestyle blogger if it's not real?) But when other readers and writers send their experiences, brilliant ideas, and guest posts, I get really excited to share their words and their stories! After all, being a military spouse or significant other is a different experience for everyone. So even though John and I don't have kids, I'm able to share a reader's ideas for incorporating her kids into care package making.
Colleen was kind enough to send not just a pic or two of a care package, but an entire year's worth of boxes she and her kids created for her husband and their dad.  (I'll be sharing those care packages with you a little later!) Right now, let's focus on some of these fabulous crafts that are both easy and fun and can provide a little bit of home to someone far, far away.
Bucketlist

The kids created a list of things they couldn't wait to do with their dad. I mean, really, how adorable is this? Not only does it give the kids something to look forward to, but I'm sure their dad was excited for these activities as well.
Candy butterfly
This candy butterfly can be put together with a snack Ziplock bag, candy, a clothespin, a pipe-cleaner, and googly eyes. Your loved one doesn't like jelly beans? Change it to whatever snack works for them.
Campfire
Perfect for a camping or summer care package!
Or use a bit of paint and create a campfire on paper!
Spring flowers
A little bit of paper and paint can help to transform a very bleak barracks or office space.
Granola bar wrappers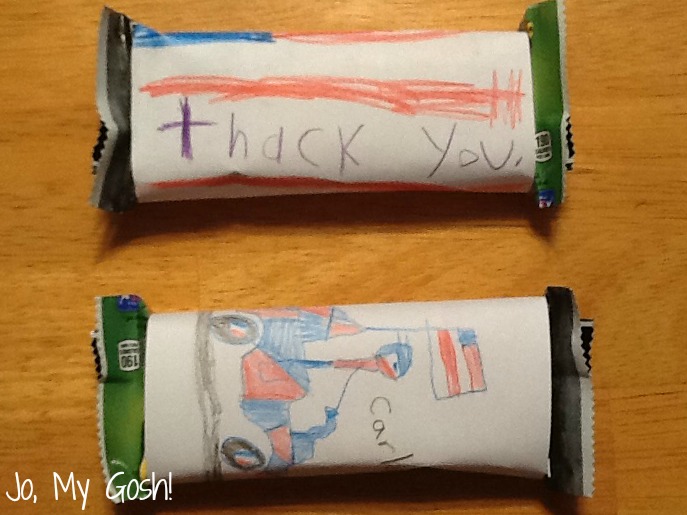 This is such an easy idea and one that is just fun. Cut paper to the size of the granola bar, have the kids decorate to fit whatever theme or holiday you want, and then secure the wrapper with tape.
Heart
This is such a sweet and simple idea– and one you can use for other purposes and purposes, not just Valentine's Day.
Turkey
Don't forget to include hand turkeys for Thanksgiving!
Hugs
Hand crafts are always sweet and a wonderful way to keep faraway parents and family more connected with children who grow quickly. After all, what better way to stay rooted in your child's life than to be able to actually see how much they're growing with every care package?
Valentines
I love this explosion of hearts and reasons why the kids love their dad! How sweet is that?
Appreciation cards
While these cards were made for Valentine's Day, they could really be attached to candy for any holiday or any reason.
Popcorn wrapper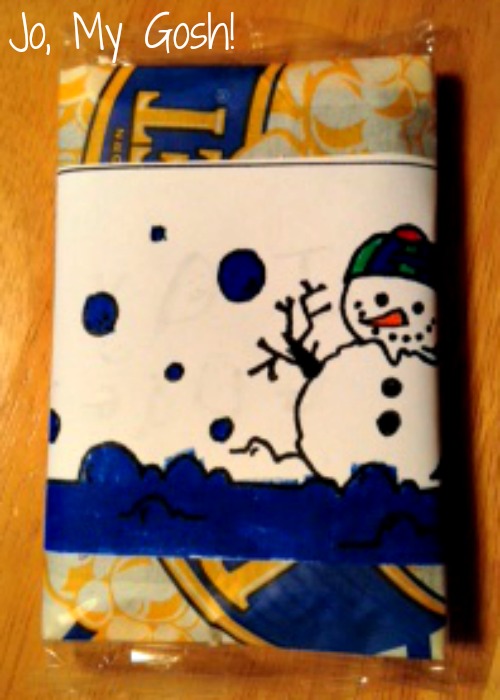 It's so friendly– and what a great way to get kids involved in the care package!
Reindeer
 Shamrock
Have paint, will make a cute shamrock poster for a lucky care package!  Just by changing a few things, the crafty kiddo can make flowers and trees using the same method, too.
 Snowmen
While this one is a little messier, a bit of paint and footprints can make a lovely poster for a deployed loved one. It's also a fantastic way to share the growth of the child and make the person who is away feel a little more connected to the child.
 Patriotic star
This fun li'l guy would be perfect for a patriotic care package. Made with paper, markers, glue, and googly eyes, it's the perfect low-cost craft that will keep kiddos engaged and give your loved one something fun to find when they open the box.
Looking For More Care Package Ideas? Try These: