Today, I am so excited to have Chelsea guest posting on Jo, My Gosh! She is an active duty sailor and entrepreneur and her product is close to my heart– care packages! Today, she's sharing some military care package ideas that service members actually want.
Hello, everyone! My name is Chelsea Mandello. I am the founder of Troopster Military Care Packs but I'm also currently serving active duty in the U.S. Navy along with my fiancé Travis. I'm happy to be a guest blogger and to tell you about some of my experiences as well as to give you all an insight of what troops really want in a care package.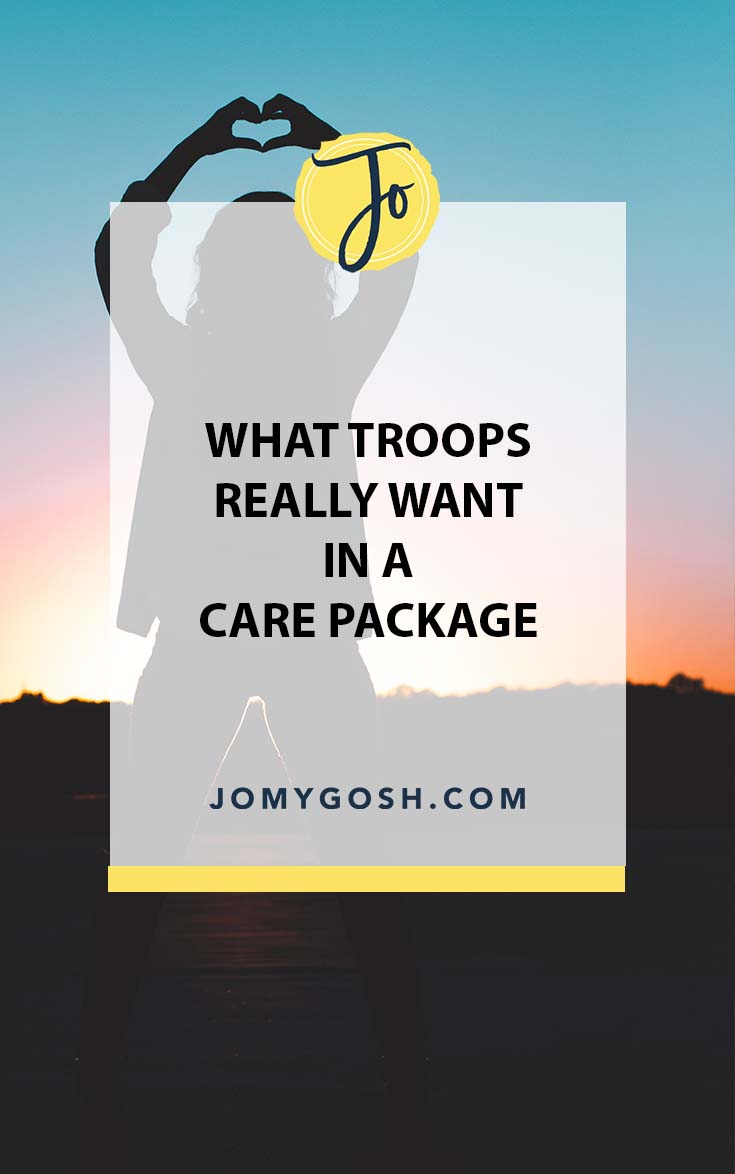 I grew up in a military family, with my mom previously serving in the Air Force, and my two older brothers now currently serving as well in the Air Force. I was a bit of the black sheep when I decided to go Navy, but haven't regretted the decision once since joining. I have served in the Navy for five years and spent most of my time deployed.
During my first enlistment my job was to be out with deployed ships and help share their stories and photos with the world. It was a wonderful job in which I was able to visit multiple platforms and really see the many versatile sides of the military as well as meet all of the wonderful and dedicated Service members who have volunteered their time.
I have been on board nine ships from small decks to large and traversed eight countries and it's amazing how similar we all are in the things that we miss and want while deployed. I have been out in the field with Marines and gone alongside the brave visit, board, search and seizure (VBSS) teams through their rigorous simulations boarding pirate vessels. It has been an amazing adventure and even though we are out there doing these exciting things it still holds no flame to being home or that excitement of getting a care package during mail call.
One of the big things with care packages is that someone always asks what you want, but the fact is that half the time we are just so happy to receive a care package that we can't remember if we requested anything in the first place.
Food suggestions
With that said though something that I've noticed that all of us request is FOOD! Snacks are such a staple to us that almost nothing else matters. Three times a day we are eating things that, if we had a choice, we wouldn't touch. It can make even the healthiest of us end up shopping at the vending machines for junk food.
Some of the most sought after snacks and foods that we request are beef jerky, any type of snack bars, and instant oatmeal. For half of the divisions I was with, instant oatmeal and beef jerky alone is all that any of us would eat. That and PROTEIN! Anything with protein in it is heaven-sent. Not only do protein shakes fill you up, but they are also delicious and help you at least feel a little more full and satisfied.
Add these to your care package shopping list:
cookies
candy (If you're worried about melting candies and candy bars, try these candy swaps that won't melt!)
gum
shelf-stable cheese
hot sauce
trail mix
sunflower seeds
individual cups of ramen noodles
individual, single-serving packages of tuna fish
energy bars
nuts (peanuts, nut mixes, etc.)
granola bars
protein bars
Once we stop thinking about our stomachs and how much we love snacks, we start to consider the other items that we appreciate as well. "You couldn't send me enough Sriracha or razors," says my fiance, Travis. "Razors are always needed, but we do absolutely enjoy photos and the occasional knick-knack."
Add these to your care package shopping list:
batteries
toothbrush
toothpaste
dental floss
lip balm
baby wipes
shampoo
foot powder
pens
stationary (paper, envelopes, etc.)
lotions
body wash
feminine hygiene products (ie. pads, liners, tampons, etc.)
eye drops
deodorant
Q-tips
other personal care items
Don't overload every care pack with novelty items because a majority of the time we will throw it away given the limited space we have. It was a great lesson for when I started sending care packs out to Travis.
What's more important than getting certain things you want? The frequency of getting mail. It is unbelievably great to get something every month. It almost doesn't matter what is sent as long as you're sending something. We are always hoping for it at every mail call and it's worse to get nothing than to get something you might not use. If you take anything away from this then please let this be it: it doesn't matter if it's a small package or large package so long as you send something.
Getting ready to send your care package? Don't forget…
Make sure that you have the correct address for your service member. Military addresses look different than civilian ones. Confirm the address with your service member.
With a few exceptions, shipping care packages with USPS' priority boxes is the most cost effective way to do that.
APO? DPO? What's an FPO address? It's okay if you don't understand the military address you're sending to. But you do need to know how to use it. When you're filling out customs forms for shipping a box overseas, you might be a little confused. Follow these easy directions for how to correctly and safely fill out the customs form.
Be smart about what you're sending and how you're sending it. Learn how to pack a care package so nothing breaks.
Looking For More Care Package Tips?  Try These Articles: