Care packages are expensive. While I never kept track (and I know, I know, I should have!) of the cost of each full-sized care package, I think mine (including postage) ranged between $40-$60, depending on the contents. Add another $15-20 for shipping, and funding care packages can be a job in itself!
Throughout my care package adventures, I've found that there are many ways to make care packages cheaper including shrinking the size of the boxes! More is not always more. Sometimes (as the tired adage goes) less is more. And if you're feeling a little goofy and creative, less is more when it comes to mini care packages, too.
In between the full-sized boxes I sent, I tried to supplement with other creative ideas to help to ease the financial strain.  These boxes are small and either fit in a large envelope or a small USPS Priority box (or in one case, a bottle, and in another case, a cardboard tube). The cost for the entire thing–from making it to sending it– costs no more than $15, with the price tag of many far less than that.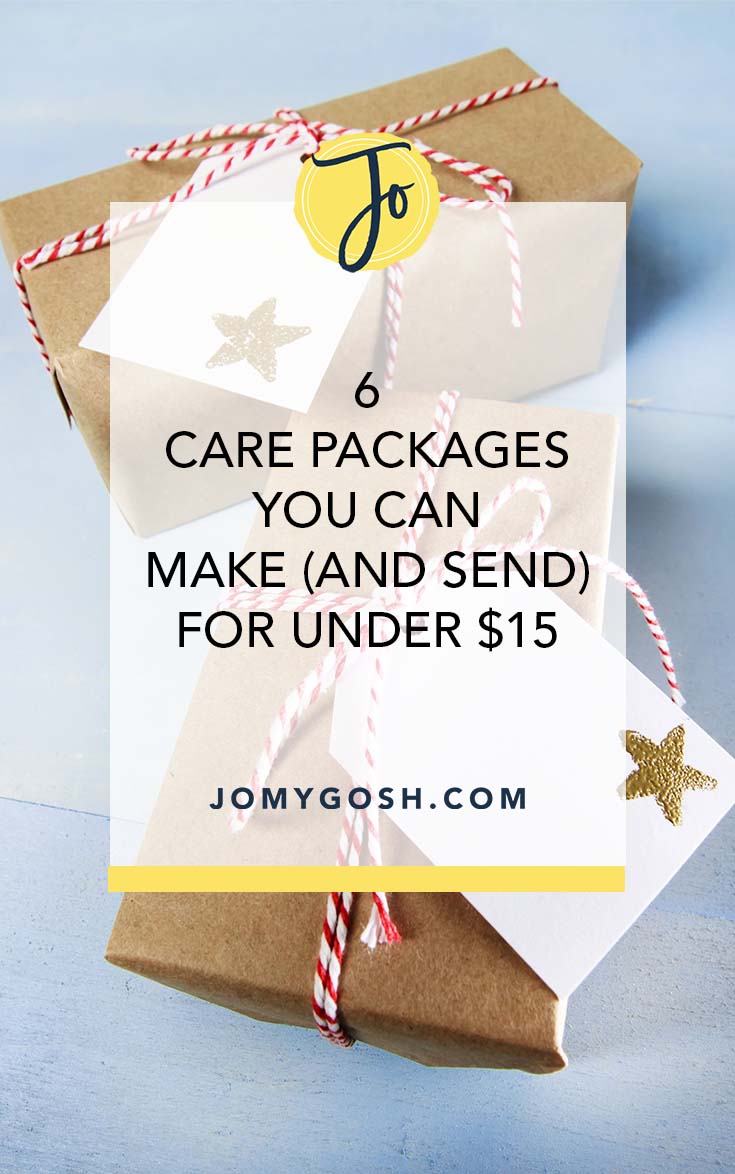 If you're not sure where to start, don't sweat it. I've got real-life examples along with everything that goes into them. Here are six great ideas that will (no lie!) cost $15 or less (and that's including postage)!
Candy Sushi
The Candy Sushi Box was an adventure to create. And believe it or not, it's deceptively easy to make candy sushi. They travel well, won't melt, and are light for shipping charges, which makes it a great baked good to send in a care package. (Just make sure that you package and wrap them extra tightly!)
A Surprise a Day Envelope
Getting to open a present every day is great for counting down or counting up. (There's a reason why people love my Open When letter topics!) This care package makes up a ton of tiny care packages that fit into seven envelopes– one for every day! Just slip the envelopes in a larger one and send for under $5.
A Peppermint Stick
I decorated a poster tube with duct tape and filled it with candy and sent it to my sister. It's the perfect fun package around Christmas. But you could also just decorate the tube with fun colors and send it at any time!
Message in a Bottle
Feel like your loved one is far away on a desert island? You can send them an actual message in a bottle.  I've done it both with 20-ounce and 2-liter bottles. Not only is it fun for you to create, its a complete surprise for the receiver. After all, who thinks they're going to get a bottle sent to them? Talk about happy mail!
Halfway Care Package
There comes a time in every deployment… the halfway point! Celebrate with a halfway-themed care package, complete with home-baked cookies cut in half! Not crazy about sending baked goods? That's okay. What about sending peanut butter and jelly? Coffee and shelf-stable half-and-half?
Airplane Snacks
There's nothing like anticipating homecoming, is there? I had a lot of fun sending a tiny care package to John when he was getting ready to come home. He didn't need too much… and I didn't want to spend a ton of money if the package missed him, either. I sent this care package to John a month before he left for home. Inside were a ton of snacks he could take with him on the military flight. Yum!
Looking For More Care Package Tips?  Try These Articles: