I was a really dumb military girlfriend. When John deployed, I dug right into care packages. I didn't do much research. I didn't know what I was getting myself into. Sure, I was worried about things breaking or going bad, but I didn't research things extensively. Looking back now, I should probably have asked around to see what other people did.
But I didn't.
Instead, I just learned as I went. (And that takes a lot longer than just asking.) And I learned a lot about shipping food in care packages:
Don't send chocolate in the summer. Just, no.
Assume that the food will need to last for 2-4 weeks. Make sure to package accordingly.
If you're worried, just don't send it. Find a non-homemade version instead.
Nut mixes are fantastic for shipping.
Dry cookies are also great and it is possible to package them so they don't get pulverized.
I know that sending baked goods is something that so many military spouses and significant others want to do. After all, it's a way to say I Love You and to comfort and take care of someone even when you're far apart. It's also a little daunting.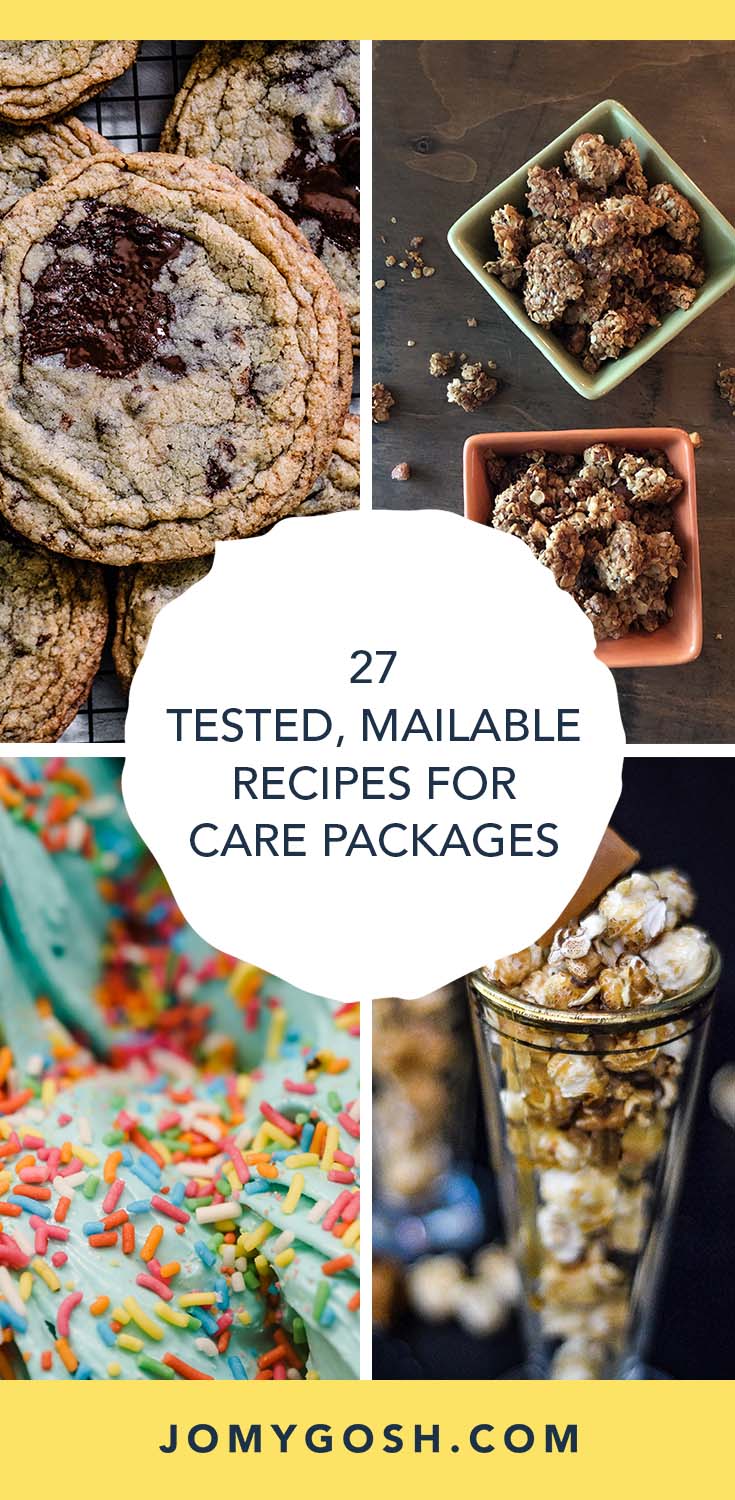 I reached out to some military spouses who definitely know what they're doing. Some have been through multiple deployments and separations; all have sent care package goodies at one time or another. They shared their fail-safe, definitely-will-work-for-care-packages recipes so that you don't have to fumble around, looking for recipes that might (or might not work). This is a gold mine right here!
Almond Joy Mason Jar Cake
Throw in a little decadence and send these Almond Joy Mason Jar Cakes to your loved one. Maybe keep one for yourself. Or two.
Pina Colada Mason Jar Cake
Send some Margaritaville vibes overseas (or to the next state) with An Aiming High Wife's Pina Colada Mason Jar Cakes. It's tropical twist on a favorite care package staple that is sure to be loved!
Pumpkin Pie Mason Jar Cake
You can't send pie in a care package… but you can send pie-inspired cake! An Aiming High Wife is clearly the queen of mason jar cakes! This would be perfect for any fall care package– especially a Thanksgiving-themed one!
Box Mix Mason Jar Cakes
You don't have to make mason jar cakes from scratch– sometimes there's just no time for that. It is possible to make them with box mix. Amy from SpouseBuzz tested it in her kitchen and takes you through every single step (with pictures, too!) so you don't miss a thing.
Vanilla Bean Almond Cookies
These refreshing crispy cookies are fantastic for shipping— and they offer a different taste than the usual chocolate chip cookies, Oreos, or pre-packaged snacks.
Double Chocolate Candy Cane Cookies
Chocolate and peppermint is always such a tasty combination! These cookies combine both flavors and are best shipped during the winter when the candy centers will most likely  stay cool and not melt.
Snowball Cookies
Using all natural ingredients, these snowball cookies  from Hippy Milspouse are maple-y and perfect for packing and sending across the country or the world.
Low-Cal Chocolate Cherry Cookies
I sent these deliciously decadent cookies to John for Valentine's Day, but you can send them anytime!
Raspberry Chocolate Chip Scones
Perfect for a breakfast box, Valentine's Day theme, or just because they're delicious, these scones are probably best for care packages going shorter distances.
Six-Minute Vanilla Caramels
Stick this in the microwave and pull out a very tasty candy that can be passed around the command, office, or ship! Avoid sending Six-Minute Vanilla Caramels to super hot places during the summer. They're best sent during the fall, winter, and early parts of the spring.
Low-Cal Cornbread Cookies
Cornbread cookies. Yes. I know it sound weird, but they're actually very tasty and the perfect accompaniment to a salad, bowl of chili, or spicy meal. They're a great way to send comfort food when you can't actually send the whole meal.
Grayesla Granola Bars
John absolutely adored Grayesla Granola Bars (get it? I crack myself up.) and I shipped them to him a few times while he was deployed. They're packed with a lot of calories from nuts, grains, and honey, so make sure you cut them into small pieces.
No-Bake Pecan and Oat Bars
Another perfect breakfast or snack-time treat, these pecan and oat bars are super easy to whip up– they don't need an oven, just a stove top!
Blueberry  Super Granola
Seeds, grains, dried fruit… this granola recipe has it all and is deceptively easy to make. You'll want to send a huge tub of it because chances are, your loved one will share it with his or her friends.
Quinoa Breakfast Cookies
Quinoa is a power grain that contains, among other nutrients, protein. These breakfast cookies are healthy, filling, and very stable for shipping– a trifecta of awesomeness for care packages!
Garlic Ranch Pretzels
These delicious pretzels from Seeing Sunshine combine the best appetizer flavors ever (garlic and ranch, duh!) into a very shippable snack that will withstand heat and cold and is pretty hardy when it comes to breaking and turning into dust.
Easy Spicy Crockpot Snack Mix
If you love using your crockpot for other-than-soup, you will love this faux Chex Mix. All you have to do is mix up the ingredients, throw them in your crock pot, and ship it to someone who needs a little love (and a delicious snack). Check out Only Passionate Curiosity's recipe here.
Wheat Thin Wanna-Be Crackers
Make an all-natural version of Wheat Thins. They ship well– send a few jars or different dippable sauces, chutneys, or jams!
Sweet Hot Chili Sauce
When John was deployed, he got tired of the same food at the DFAC. I tried mixing things up by sending different kind of dressings, toppings, and spices that he could easily add to veggies or other foods. I wish I would have had this recipe for chili sauce!
Cinnamon Honey Glazed Nut Mix
Nut mixes are perfect for care packages and deployment. They're healthy, ship well, and are pretty shelf-stable. These cinnamon honey nuts can double as dessert, too!
Candied Pecans
These candied pecans taste like they're straight from the South and like hot nuts carts in New York City. I don't know how that is possible, but it is. The recipe is easy and the results are tasty!
Cocoa Roasted Walnuts
Satisfy a sweet tooth or chocoholic with this easy recipe for cocoa roasted walnuts.
Pumpkin Pie Nut Mix
Baking up a batch of Pumpkin Pie Nut Mix will make your kitchen smell awesome… and the care package will too! This recipe uses no sugar except for natural honey (or agave, if you have it on hand).
Cinnamon Sea Salt Roasted Walnuts
If your loved one doesn't have much of a sweet tooth, this walnut mix is perfect. There's no sugar at all– just cinnamon, sea salt, and lots of protein.
Lemon Pepper Walnuts
Keep things zesty and interesting with this exciting flavor combination. Lemon Pepper Walnuts are a great snack– a handful is filling!
Dried Blueberries
You can't send fresh fruit, but you can send dried fruit! This recipe for dried blueberries adds no sugar or preservatives and only uses your kitchen; you don't need a dehydrator or other equipment. Make sure that you send the blueberries in an air-tight container or sealed bag so they stay fresh as long as possible.
Truffle-Infused Sea Salt Kale Chips
You don't need anything but your oven for this recipe either. Make and send kale chips in a care package– they keep up to one month as long as they have been baked thoroughly, so there's really no reason not to.
Looking For More Care Package Ideas? Try These: