1.Survive deployment. 
I sat at my kitchen table a few days after John had deployed to Afghanistan, the goodbye still raw, a blank Word document glaring at me on my laptop.
John and I had been dating for a year before he left, but we had been friends for a much longer time and his reentry into my life had filled it to bursting. In a good way– not an Alien-bursting-through-your-chest kind of way.
And now that he was gone,  a whole year– at least a year, maybe more– spread out in front of me like an empty canvas.
I refused to be cowed by the deployment. I did not want to be some weeping, wasted, could-have-been heroine sitting on the couch, crying for the next 365 days. I was not going to waste this year– a precious year in my 20's. I was going to do something with it.
I deleted "1. Survive deployment." The cursor flashed at me.
I had two choices: I could see the empty canvas as a blank, depressing void to slog my way through for the next year. Or I could see it as a place to splash paint, to doodle on, to try new ideas out, to adventure through. It's not like I didn't have things to do. It's not like I had to "keep busy." (Because really, who isn't busy.)
But I wanted my year to truly count for something so I could see it as more than "the year John was gone."
[Tweet "I had two choices when it came to deployment. I chose to #rockdeployment."]
I wrote a deployment bucket list.
And it's the singular best thing I did during John's deployment.
Give yourself different kinds of goals.
I wrote out 100 things that I wanted to do during John's deployment. Some of them are things that I could do in one day (like try a new recipe!). Some of them were long-term (plan for our wedding).  I categorized them too– wedding stuff, health goals, books I wanted to read… By varying the kinds of goals, I essentially gave myself a menu of activities that I could fit in as my mood and schedule suited me.
Do the thing.
When I created my list, I wrote down a bunch of things that I wanted to do… but had always put off. I wanted to make homemade marshmallows. I wanted to meet a coworker who had recently retired for lunch. I wanted to do some crafts that had slipped by between work and dating John. I put them on the list. It was cleansing to get those things– the things that I had wanted to do for a long time– out of the back of my head.
Be realistic… but challenge yourself.
I'm not a runner, but I wanted to challenge myself  to get healthier with the end goal of participating in a half-marathon. I did…by walking it with a friend. It's the first one I've ever done. But it wasn't the last. I liked it so much I've done 1-2 every year since John's deployment. All walking, but whatever. It works for me.
Finding a few goals that push your limits or your daily grind gives you a chance to explore a different part of yourself. What are you kinda-sorta-maybe interested in but haven't tried because it takes too much time or you're too nervous to try?
Have fun!
Put activities and goals on that you're actually excited about… and want to do, rather than ones that you think that you should do. If you punish yourself on the deployment bucket list, you're not going to want to cross things off. Remember, this is an adventure! So go adventure!
It's okay if you don't finish your deployment bucket list. I didn't finish mine… but having that list of concrete goals gave me a purpose beyond just trying to "make it through." It gave me something interesting to look forward to after work and on the weekends. It gave me something to talk to John about when we were able to Skype. And it gave me a lot of cool experiences that I wouldn't have otherwise tried without the list.
Deployment doesn't have to be a depressing void. It can be a time of opportunity and growth. You can do this and I'll be here for you. My friends, JD, Lauren, and I wrote a book on being a military spouse and significant other which comes packed with real advice, real situations, and real conversation. Military life is hard, but it doesn't have to be lonely and you don't have to do it by yourself. Find out more about Modern Military Spouse here and read more about Lauren and JD's deployment conundruums, too: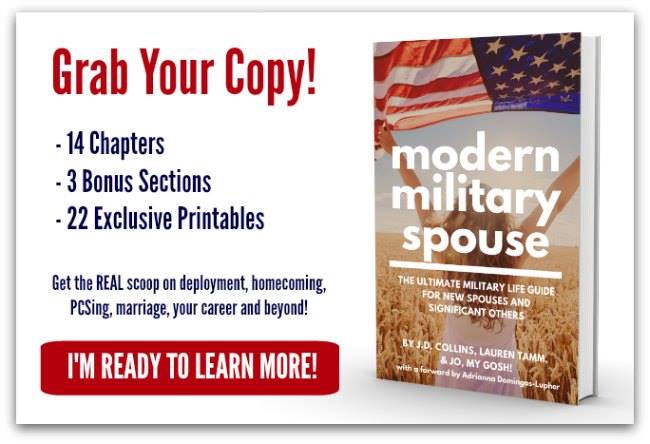 What are you putting on your deployment bucket list?