This post is sponsored by Lowe's. All opinions and work are my own.
The bathroom was keeping me up at night.
Since we took the plunge as homeowners and bought a Civil War-era house in our small town, the bathroom was keeping me up at night.
The bathroom wasn't awful. It is an awkward shape. It's small. But it's not tiny. And there's a bit of storage. It's bright and so it feels airy. (But it isn't cute. And everyone needs a little bit of cuteness, right?)
We didn't want to do a makeover of our bathroom. There's so much else to do—including refinishing the hardwood floors by hand—that redoing a perfectly functioning bathroom seemed a little frivolous and expensive. (And trust me—as we're renovating, we're watching every penny.)
The only problem was the sink. The sink had very little counter space. It had no drawers, just one big under-the-sink cabinet. And as our only bathroom in our house, I knew that we would need that space for ourselves and for our guests.
We decided to price vanities and let that be the deciding factor.
So we checked out the vanities, and with a sale and the military discount, we knew we could make it happen.
Here's what we learned from the process (and what I hope helps you!):
Use the military discount
Throughout our renovations, Lowe's has been our go-to home improvement store. (And I'm not just saying that because this is a post sponsored by Lowe's.) Not only is it always stocked, it's competitive with other sellers in the area and it offers a 10% military discount that veterans can use. (Best believe we have the myLowe's reward card on us at all times. That card and discount has saved us hundreds of dollars.)
Often military discounts only apply to active duty members or retirees. Lowe's discount expands that to veterans, too. I've written before about how you can take advantage of it (regardless of your military status). Here's the skinny on the program.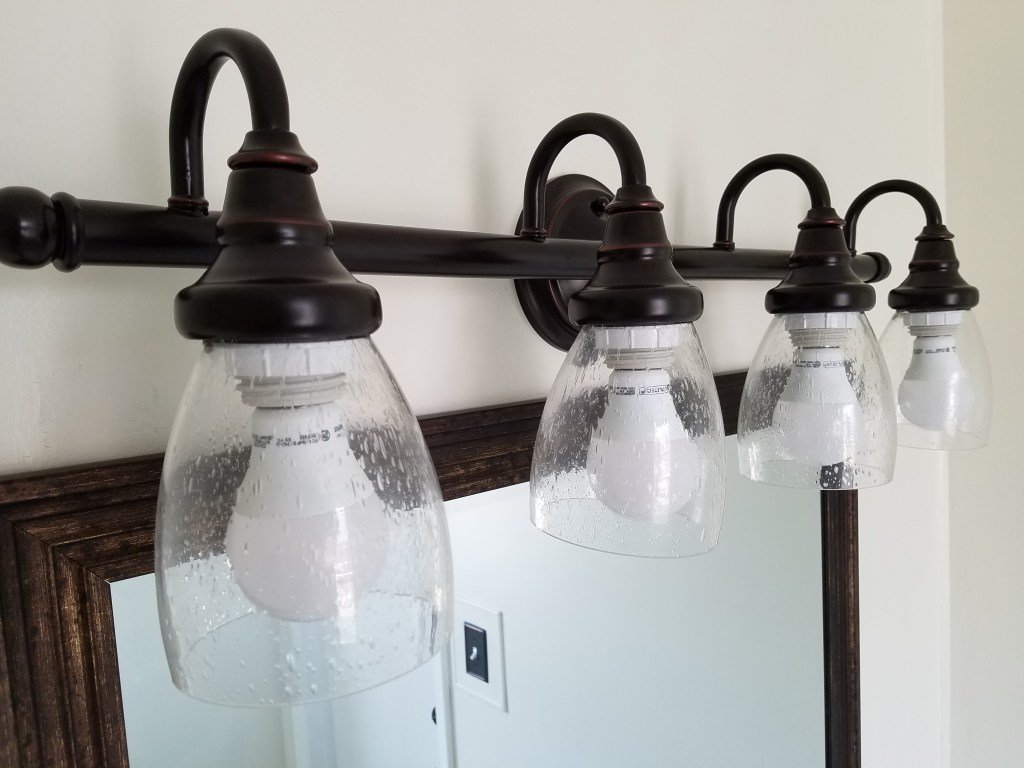 Check online first
Lowe's has a fantastic bath section of their site.  You can spend a lot of time getting ideas and inspiration as well as price-checking and comparing. If you only want to pick-up in store, make sure that you use the toggle button that allows you to see products that are available close to you.  That way you're not disappointed when you go to see something in person at your local Lowe's… and it's not there.
Know your options
It's not possible to use your military discount online, so if you want a product that is featured online but not at your local store, make a trip to customer service. We did this with the vanity (and I'm so glad we did because it's gorgeous). You'll pay for the product at the counter (don't forget to use the military discount) and give your phone number. When it comes in, they'll give you a ring and you can pick it up in the store and avoid shipping or delivery charges, too.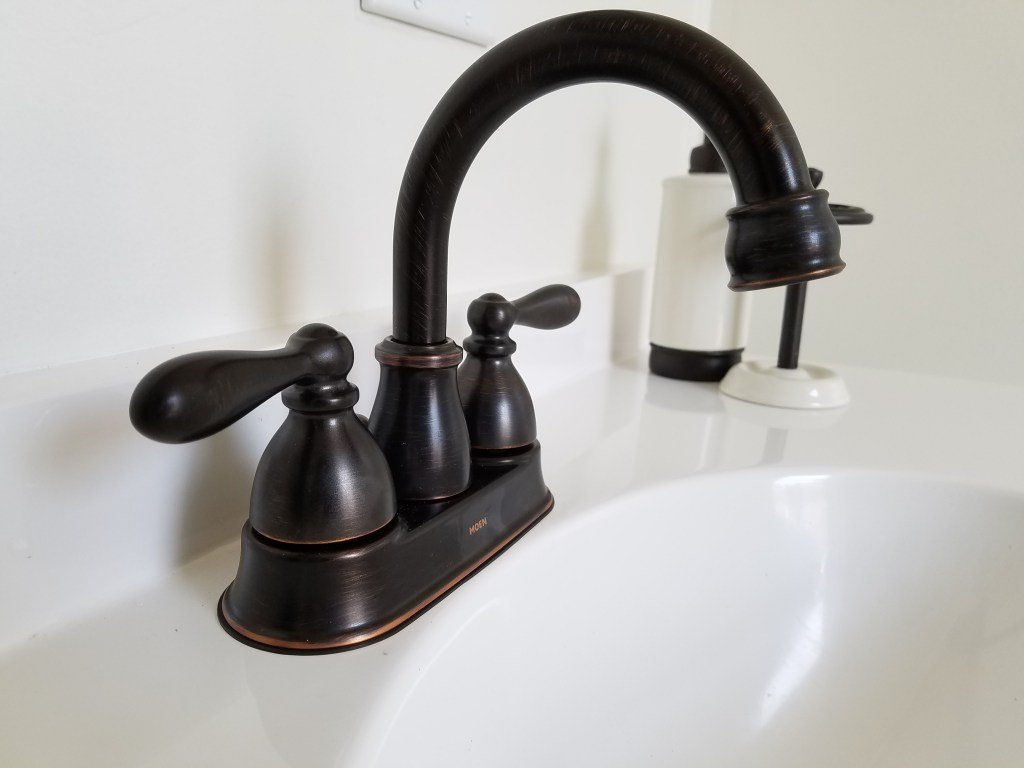 Ask about other deals
Our bathroom kind of turned into the If You Give a Mouse a Cookie story. If Jo buys a vanity, then she'll want to buy matching fixtures. If she buys matching fixtures, then she'll want to change the flooring. If she wants to change the flooring then…
You get the picture. It seemed to us (as we were window shopping at Lowe's) that if we were ripping out an old sink and putting in a new one with new fixtures, we might as well freshen up the flooring too.
We were lurking around the flooring area when the most knowledgeable and helpful associate I've ever encountered at Lowe's asked if we needed help. (That's not a joke. Dustin is the man!) Because the floor is bowed (as many old houses' flooring is), he helped us choose linoleum and then he steered us to the remnants section. We were able to purchase flooring for the whole bathroom for more than 50% off what it would normally cost.
(We've encountered a similar situation when buying fencing at Lowe's. Asked about already cut or damaged products. Often you can work with what is available and get a steep discount.)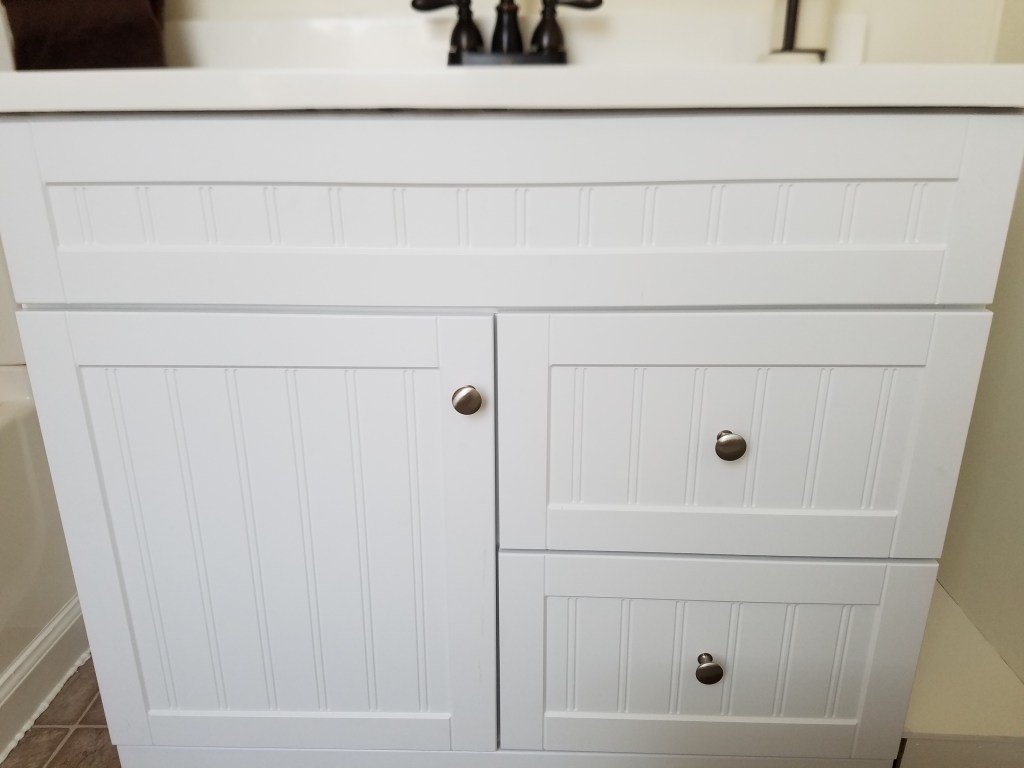 Don't underestimate paint
A gallon of paint in a trendy color—or a warm, clean white—can do wonders for a bathroom redux. It's a cost-effective and efficient way to make a maximum impact in any room but especially the bathroom.
Think about matching
If you're watching your costs closely, it might seem that changing out fixtures is expensive and not worth it. We thought that too. Then we took a look at some prices and realized that we could add towel bars, a faucet, and robe hook, within our budget. They would also match the mirror that we brought with us and a light fixture that we moved from another room to the bathroom. Those small changes make a big impact and difference to the overall feel of the bathroom.
This post is sponsored by Lowe's. All opinions and work are my own.