It's 2:30 AM, and you're saying goodbye to your spouse leaving on deployment. It's dark and your eyes hurt from crying. The six months or nine months or twelve months stretch out  in front of you. You hug them and know that you'll have to leave go and have to walk away.
Or…
It's 6 AM, and the kids are already cranky. Your spouse is already gone for the day, and you've already helped to uncover a PT belt from the cavern under the bed that seems to eat all of the things they always need last minute.
Or…
It's 9:15 AM and you're scrolling through employment sites trying to find a job that fits your family's needs… and that you maybe won't have to leave when you PCS in two–maybe three–years.
Or…
It's 11:32 AM, and you're standing in your empty house, saying goodbye to the walls, to the places where your child stood up for the first time, where you and your spouse ate pizza sitting on the floor because the furniture hadn't been moved in yet, where your sister and her family talked for hours when they were able to visit that one time.
Or…
It's 3:47 PM, and you're picking up the kids, hurdling through the Commissary, driving the speed limit on base (of course!), and trying to make it home so your complete, little family can spend a few precious hours together before your spouse leaves (again) for training.
Or…
It's 5:17 PM, and it's a drill weekend, and everything is breaking, and you are just. So. Over. It.
Or…
It's 7:58 PM, and you're a brand new spouse with zero friends in the area, your spouse is working all the time, and you are just… you.
And maybe, somewhere in a very dark, little part of your brain, you definitely, definitely, definitely don't feel appreciated. You don't get awards. There's no one to see you in the middle of the night when you wake up, reach for your spouse, and there's only an empty space next to you. There's no cheering when you're at an IEP meeting alone, trying to figure the new school system out (again). Or when you're packing another care package and writing out another customs form. Or when you can't listen to another second of the news.
It can be rough when people don't know what to say or what to do. When your spouse is deployed to another country that most folks don't even know we have a military presence in. When you are tired and sick and can't get seen by your PCM fast enough. When you feel like everyone else gets the kudos, but you showed up to work with your shirt on backwards and living in fear that you'll miss a precious call from your spouse. When you just feel so damn lonely.
Know this:
You are loved.
You are amazing.
You are enough.
Repeat that to yourself:
You are loved.
You are amazing.
You are enough.
And believe it.
You might not have an award. Military Spouse Appreciation Day may pass with little fanfare. Most people might not understand what you do or what your life is like. You might not even hear from your spouse for weeks on end.
Maybe that's your life today. Maybe you're feeling just a little annoyed or frustrated or tired or underappreciated. Maybe you're tired of feeling left out. Or ignored. Or forgotten. Maybe you feel like life is passing you by while your spouse gets the accolades and thanks.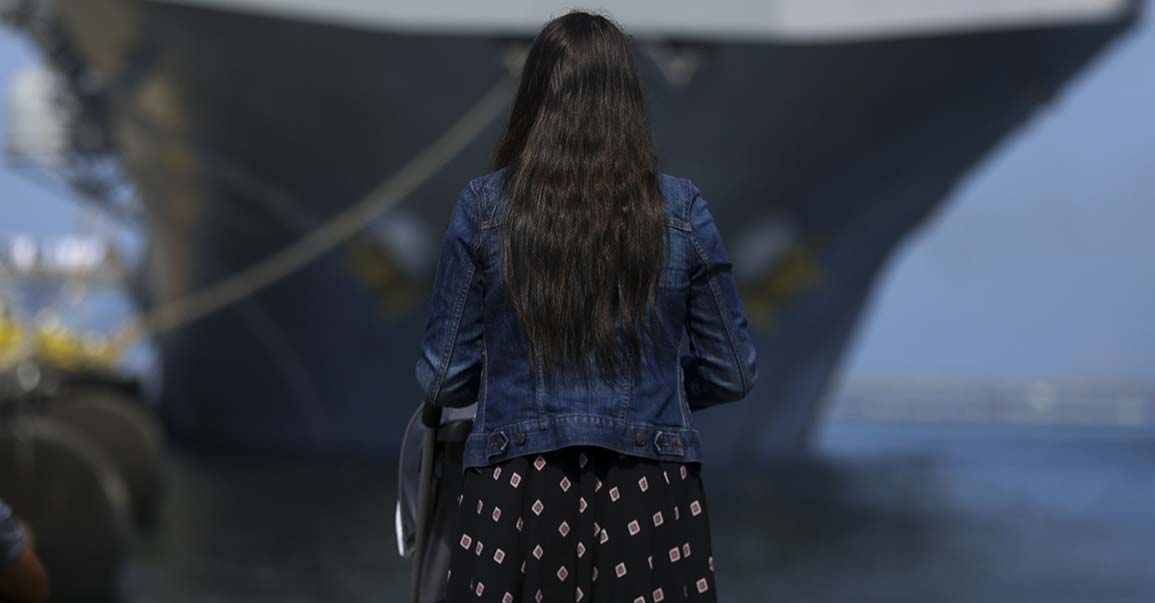 But what you do and who you are is important.
You are a PCS warrior who packs up your home and travels across the country or world to create a new home out of just a few boxes, often without your spouse.
You are a multitasking maven who learns and relearns and re-relearns new school systems and teachers after each move so that your kids get the best education you can give them.
You are the foundation of your family, unmoving in a life that is constantly rocked by announcements and deployments and trainings and fears.
You are a task-master who keeps the wheels moving. When you're not sure that you can do it all, you somehow do.
And even when you are none of those things, even when you are curled up on the couch with a quart of ice cream, wearing a shirt that hasn't been washed since– you're not sure– and missing your spouse and your parents more than your heart can bear, you are enough.
Remember that you are part of a vast group, stretching back for thousands of years, of women and men who have loved someone in the military, who have waited, who have watched, who have prayed and worried and waited again. That what you do is invaluable. You love your family. You care for your family. And you do it through moves and deployments and frustrations and career changes and unemployment and uncertainty and births and deaths.
That takes a special kind of someone.
That takes you.