It's vacation time, baby, and you're ready to hop on a jet to somewhere. But also, that's expensive and you'd like to make it a little bit cheaper. You'd like, perhaps, some sweet military discounts on flights and baggage.
Keep reading to learn all the details about scoring a deal on your next flight or cut the cost of checking bags.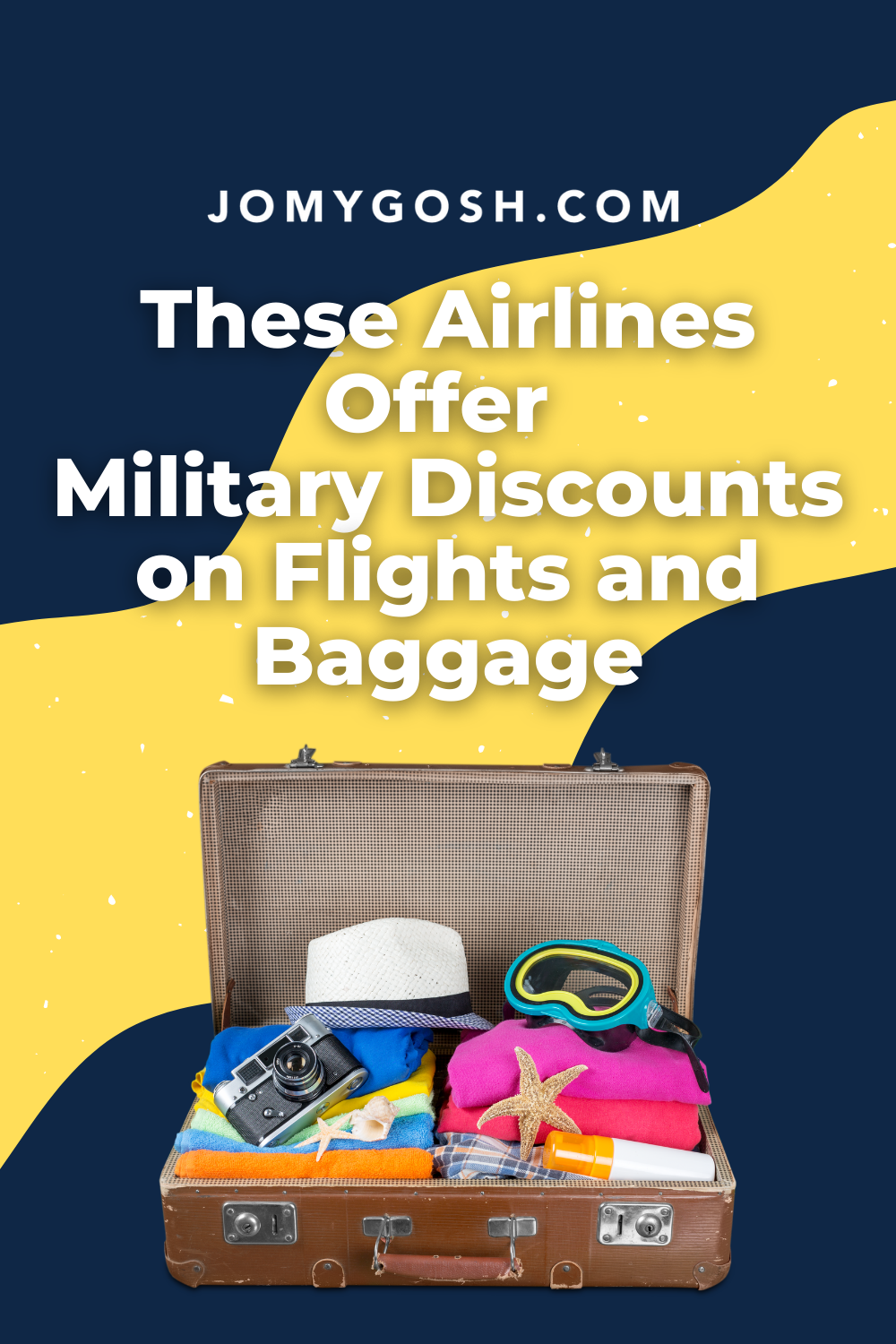 Leisure Travel vs. Official Travel
Before we dive in, it's important to clear something up. Not every trip qualifies for the same deals, perks or discounts.
Some things are available only when the service member, or your entire military family, is traveling on orders. This would be for commercial flights during a PCS. Other times, your service member might be taking a commercial flight during a deployment or for a TDY assignment.
Everything else is considered leisure travel, or vacation. While there still might be benefits available based on your military affiliation, they will likely be different.
When you book, carefully read the details and specifications for military personnel traveling for leisure and compare them to "official" travel on orders.
Delta Airline Military Discounts
Delta Airlines offers some sweet discounts on flights and baggage. According to their website, there are multiple ways that military families can save on baggage, vacation packages and even traveling with pets!
When traveling on leisure, military families can check up to two 50 lb bags per person for free in economy, main cabin or Comfort+.  If you upgrade to first class Delta Premium Select or Delta One, you can check three 70 lb bags.
Please note: this policy applies to active duty military members only; dependent spouses do not appear to have access to this perk. However, sometimes gate agents will extend this baggage benefit to dependents traveling without their service member. Do not count on it!
If you're traveling on official orders, military members can check up for five 100 lb bags for free per person. This is a huge benefit if you're moving OCONUS and need to travel with lots of stuff.
There does not seem to be any official military discount on actual tickets. Discounts are offered via Delta Vacations, but are not outlined online.
One of the biggest issues for military families is moving, especially OCONUS, with pets. Delta provides significant discounts to help with the significant costs.
Pets traveling with their families on official orders can be checked as baggage for a reasonable fee. Costs for this, as of publication, range from $150-200 US/CAD/EUR. The final currency is determined by the destination of the pet.
If your pet doesn't meet the criteria to be checked as baggage, there is the option to be checked as cargo. Cargo costs are based on crate and pet size. Some crates, like XL or Giant sizes, can only be accommodated on particular plane types. Carefully read the rules and, when in doubt, contact Delta directly.
Deals and Discounts for Troops on United Airlines
United offers a unique mix of benefits for military travelers on orders and on vacation.
For either type of travel, active duty troops are invited to check additional baggage. When traveling on vacation, active duty members may check up to three bags for free. Military dependents on official travel orders, like when you PCS, can check up to two bags for free. Military traveling on official orders of any kind (PCS, deployment, TDY) may check up to five bags.
Orders and relevant IDs will need to be presented in order to access these deals. Like other airlines, military dependents traveling for vacation without the active duty service member are not included in the baggage allowance, but gate agents could choose to extend the benefit at their own discretion.
After checking in, military troops can access the United Club lounges; family members traveling with the service member can also get into the lounge. However, troops do need to be on orders (travel, R&R or official) and in uniform with ID. The perks here can be huge! The Clubs are after security and often offer free food and beverages, including alcohol. Plus, some lounges are equipped with showers, kids' rooms and quiet spaces for napping.
When you travel for pleasure on United, you can claim a 5% discount when you are verified with Veteran's Advantage. While 5% may not seem like a giant deal, when you are looking at hundreds or thousands of dollars in plane tickets it really adds up!
Prior to April 2021, United offered the PetSafe program to support transporting animals around the world. However, that program has now been suspended. Please check the PetSafe website for updates.
American Airlines Offers Sweet Military Discounts on Travel
If you're a Veteran's Advantage member, you can claim up to 10% off on tickets from American!
In addition, American also honors baggage policies similar to other major airlines. Active duty troops and dependents on official orders may check up to five 100 lb bags for free. When traveling for vacation, active duty service members can check up to three 50 lb bags.  As with all other airlines, military dependents are not included in the free checked bags benefit when traveling for vacation. However, gate agents may choose to apply this perk at their own discretion.
Active duty troops with ID are also welcome to board in Group 1, with First Class passengers.
Pets traveling with their military family on official orders may be checked as baggage for $200 per kennel. Pets may also be checked as cargo; rates vary based on size and weight of the dog plus their kennel.
Military Travel Deals with JetBlue
Score 5% off on tickets with JetBlue when you enroll in Veteran's Advantage! You can also claim 5% off when you call 1-800-JetBlue. These special military fares are only available when you call to book the ticket(s). However, there are a limited number of these seats on each flight.
Both service members and dependents are clearly included in the baggage benefits, on orders and for vacation travel. On orders, military families can check up to five 100 lb bags per person may be checked for free. When you're heading out on vacation, active duty troops and dependents traveling together can check up to two 50 lb bags per person. Be prepared to show your DOD ID and CAC on request, as well as orders when applicable.
More Ways to Claim Your Military Travel Discount
Veteran's Advantage is a major player when it comes to deals and discounts for military families. Several major airlines, including Hawaiian Air and Alaska Air, offer deals from 5-10% off when flights are booked through the Veteran's Advantage platform.
If you are flying on AirCanada, members of the US and Canadian militaries have expanded free checked baggage. Troops are allowed up to 3 pieces of checked luggage each weighing up to 70 lbs.
Passengers on Spirit Air can check up to two free checked bags as well as a free carry-on item. Spirit currently allows one personal item to be carried on for free; all other baggage, both carried on and checked, requires an additional fee. You can use ID.me to verify your active duty status prior to your flight to speed up your check-in process.
Alaska Air offers special military rates and a 15% discount on their in-flight menu. Show your military ID to claim this discount.
Meg Flanagan is a teacher, blogger and military spouse. She owns Meg Flanagan Education Solutions, an education advocacy service dedicated to serving families on the K-12 journey. You can find Meg on Facebook. Meg is also available as a freelance writer and personal education advocate!