It's hard to believe, but it's been three years and just a few days since John and I started dating. (That also makes it 3 years since I knew that I loved John, but that's a totally different story for another time.) In those three years, we went from being in a long-distance dating relationship, to being long(er)-distance fiances when John was on a year-long deployment to Afghanistan, to (finally) living together as a married couple (for almost 10 months!). We've already experienced a microcosm of the military experience– from C School, TAD assignments, deployment, R&R, PCSing, changes of command, promotion…I've learned so much in the last three years about being a military significant other and the military community.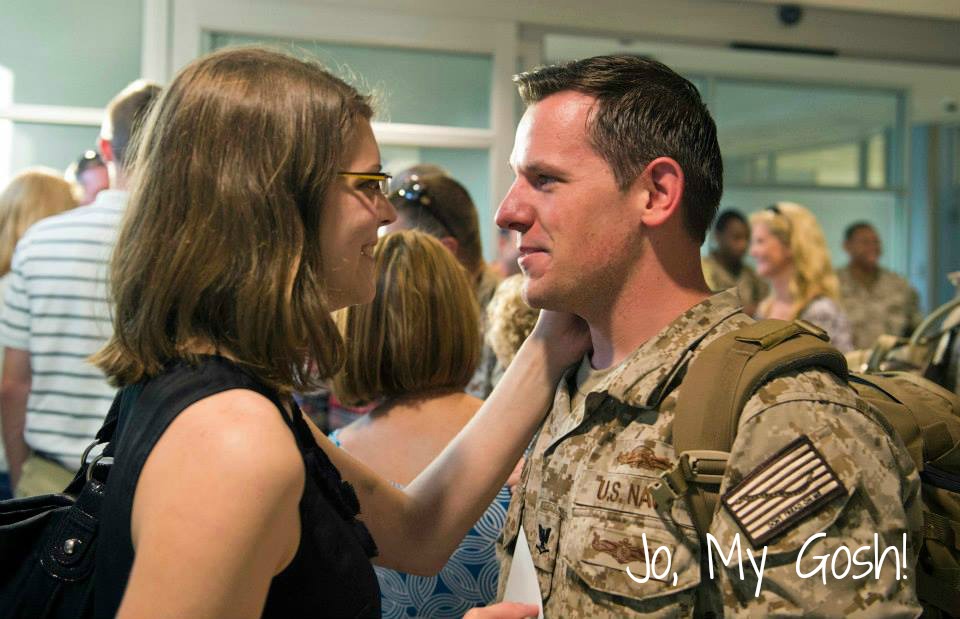 After more than a decade of war, and so many people who have dealt with multiple deployments and life-altering injuries, many people want to know how to help, but often don't know what to do. But I encourage you to do something– even if you think it's something small or insignificant. It makes a world of difference! Without the support of my friends and family and kind strangers, John's deployment would have been much harder than it was. If you're still stumped, here are a few ways to help a military family:
1. Pray for them and include them in the lists of prayers for your place of worship.
When John was deployed, my home church prayed for him every week until he was home. I can't tell you how comforting and meaningful that was for both of us. 
2. Send a heart-felt care package to someone who is deployed.
(Ask to find out what they really want so that you're not sending their 150th pair of socks. Baked goods are awesome too– and they can actually ship well depending on the recipe and how you pack them!) A care package to a spouse or a child can be such a morale booster too!
3. Give a bit of your time.
Volunteer with an organization that serves the military community like the USO, the Wounded Warrior's Foundation, Heroes on the Water, or the Intrepid Fallen Heroes Fund. There are a ton of them out there– find one aligns with your interests and hobbies! 
4. Hire a military spouse (or pass on his or her resume to someone who can).
With frequent moves and deployments, a stunning amount of military spouses are unemployed or underemployed. Out of necessity, they have to put their careers on hold for their spouse's. Give them a hand up.
5. And while we're on the subject of hiring, hire or support a vet in the hiring process, too! 
6. Be nice.
 If you know someone who is deployed or away for long periods of time, do something nice for their spouse– cut the lawn, offer babysitting services, or bring over a pizza. 
7. Talk.
Being part of the military can be really, really isolating with moves, deployment, trainings, and weird schedule. A genuine friend really goes a long way. 
8. Support military-run businesses.
You'd be surprised how many military spouses and significant others are in business for themselves. (The number alone on Etsy is staggering!) Send business their way. 
9. Avoid asking prying questions about emotional topics.
Instead, be supportive. (It means so much!) 
10. Send something unexpected in the mail– like a card– just because. 
11.  

Comment below…

..and be entered to have a $500 donation made in your name to the Intrepid Fallen Heroes Fund, courtesy of CK Mondavi! The IFHF supports and serves fallen and wounded military personnel and their families and is entirely funded by the public. (If you enjoy wine, CK Mondavi is donating a portion of every sale between May and August to the IFHF. So you can support military families with a glass of wine, too!)
I was selected for this opportunity as a member of Clever Girls Collective and the content and opinions expressed here are all my own.