Our story spans 6 years of build-up, two failed dates, and one year of not talking to each other before we even get to our real first date. Seriously. I met John on my first night of being a college freshman during band camp. We both play trumpets and ended up having the same friends. One thing led to another and John asked me out on a date. The date fell through– I told him I had to write a paper (I really, really did!) when he asked me if I wanted to continue hanging out– which pretty much ended any kind of romance we could have had in college. We began talking once we both graduated and once again, John asked me out; once again, the date fell through; once again, it was completely my fault.
The poor guy had had enough and we stopped talking for about a year. During that time, John joined the Navy. One day in the spring, I happened to log on to Facebook and see that John's brother had posted his boot camp address. Maybe I'm bright or dim– jury's out– but I decided to write John a letter. A few weeks later, I received a response. It sounds trite, but it's true– I started falling for him because of that letter. I wrote another letter, and then another, and then another.
When John graduated from boot camp and was able to use a computer and phone again, we graduated to long phone calls that left me able to get two or three hours of sleep before going to work. During that time, John received his first tour of duty– on the other side of the country– but at the last moment, it was changed and he was given orders just 200 miles away from where I was. We spent five to six hours a night on the phone for about six months before our 3rd first date.
Even though it had been such a long time since we had actually seen each other, our 3rd first date was awesome and we started dating seriously right after that. Tons of awesomeness happened for the next year, even though John was beginning to ramp up for a year-long deployment to Afghanistan. Just a little after a year, and about a month before John deployed, he popped the question.  Even though we had been talking about it for almost as long as we were dating, I freaked out and ended up kneeling– in the mud– next to him.
This is the part of our story that is the hardest and most rewarding: John's deployment.
This is the part of the story where I go crazy, make a ton of care packages, start the blog, and plan our wedding. It's also the part of the story where I cry pretty much every night and where my best friend is 7,000 miles away for a whole year.  But, deployments do end, and after a year and an insane day (if you haven't read our homecoming story, here it is), I finally got to hug John and get excited for our impending wedding. It was just over a month away!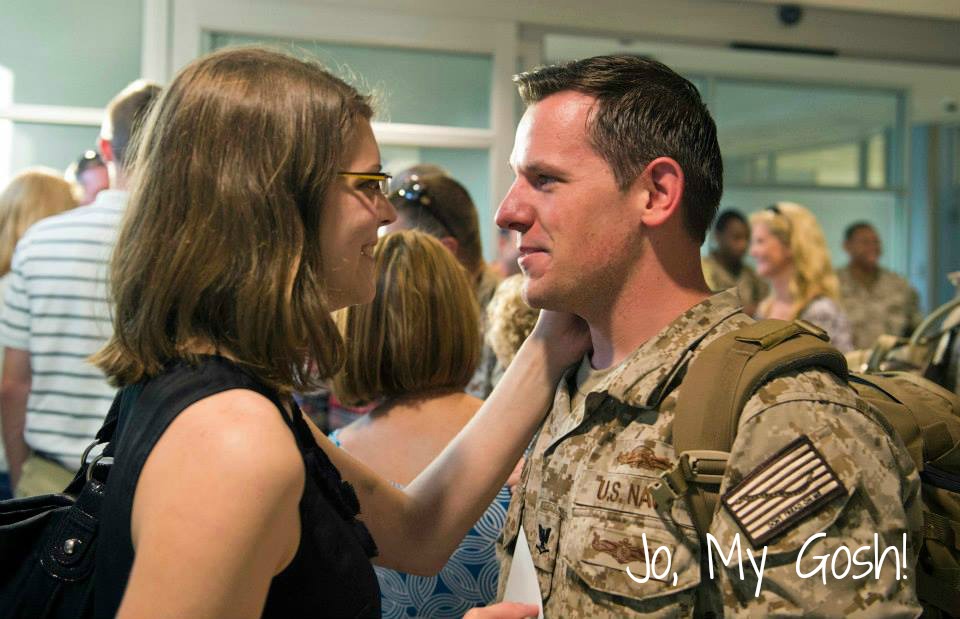 And then… a wedding and celebration!  (And just because I love these pictures, here are a bunch of them!)
The military can be frustrating sometimes, especially when it feels like there's so much out of your control; however, because of how much time and space there has been between us– and especially because of that dang deployment– I have absolutely no doubt that John and I are resilient as individuals and doubly so as a couple.  We've been married for almost 7 months; here's to 70 more years!