This shop has been compensated by Collective Bias, Inc. and its advertiser. All opinions are mine alone. #ShareYourSummer #CollectiveBias #ad

The entire year John was deployed, he talked about how much he couldn't wait to be home– to wear clothes that truly felt clean, to take a shower in his own bathroom… He wanted to get rid of the things he had taken on deployment because they were so worn out. So when John came home, I had a little welcome home basket full of the things he needed– toothpaste, razors, socks, underwear. He loved it!
A welcome back homecoming basket is a great way to make your loved one feel at home again and to provide the little (and maybe big things) that he or she might need or have been craving on deployment. I put mine on John's dresser as a surprise that he could discover on his own without any pressure. The possibilities for the contents and where you place the basket are endless! (And a lot of fun to think about and plan!)
Even though John's home from deployment, I decided to make another basket for him (after all, who can say no to snacks?) and was really excited to find a few fun items that didn't exist two years ago when John came home.
The first? Personalized Coca Cola bottles! (You can easily find them at Walmart– in huge bins in the store as well as in the coolers in the checkout aisle.) While John's name is super common, there are now more than 1,000 different names to choose from! (Find your name!) If you're worried about all of those names, don't be: Walmart has the largest and most organized selection of personalized Coke bottles, so you should be able to find the name you're looking for in no time.
The second? Reese's Peanut Butter Cups. As a kid, John thought that people who gave each other Reese's Peanut Butter Cups were truly in love– it was something his mom would bring his dad as a treat on occasion. When John was deployed, I'd try to always pack him a few in each care package as a little code– "I love you." It only makes sense to add them to this gift basket! Now they also carry messages on their packaging! I chose "My Fave,"  but there are a ton to fit whoever you're giving them to!  (Just a note: Reese's Peanut Butter Cups with messaging on them are exclusive to Walmart– you can't find them anywhere else.)
This basket includes:
a personalized Coca Cola bottle and a few other Cokes for good measure
a few packages of Reese's Peanut Butter Cups
athletic socks
sandwich cookies
tortilla chips
cologne
razor blades
flossers
toothbrush
Other ideas:
a DVD, book, or video game they might have missed during deployment
dried fruit
their favorite baked goods (chocolate chip cookies, anyone?)
underwear
t-shirts
new pajamas
favorite snacks
toothpaste
deodorant
shaving supplies
hair products
new magazines or newspapers
Once you've got your goodies for the basket, find a basket that fits them. I found this particular one at Walmart when I was shopping. Tie a cute ribbon around and use this free printable to send a little welcome home message to your loved one! (Just right click and save. It's dimensions are 4×6.)
Homecoming is a wonderful time, but it can also be a little stressful. A gift basket is a really nice touch to provide items that your loved one needs– and it doesn't need to be difficult to put together!
Enjoy! And let me know–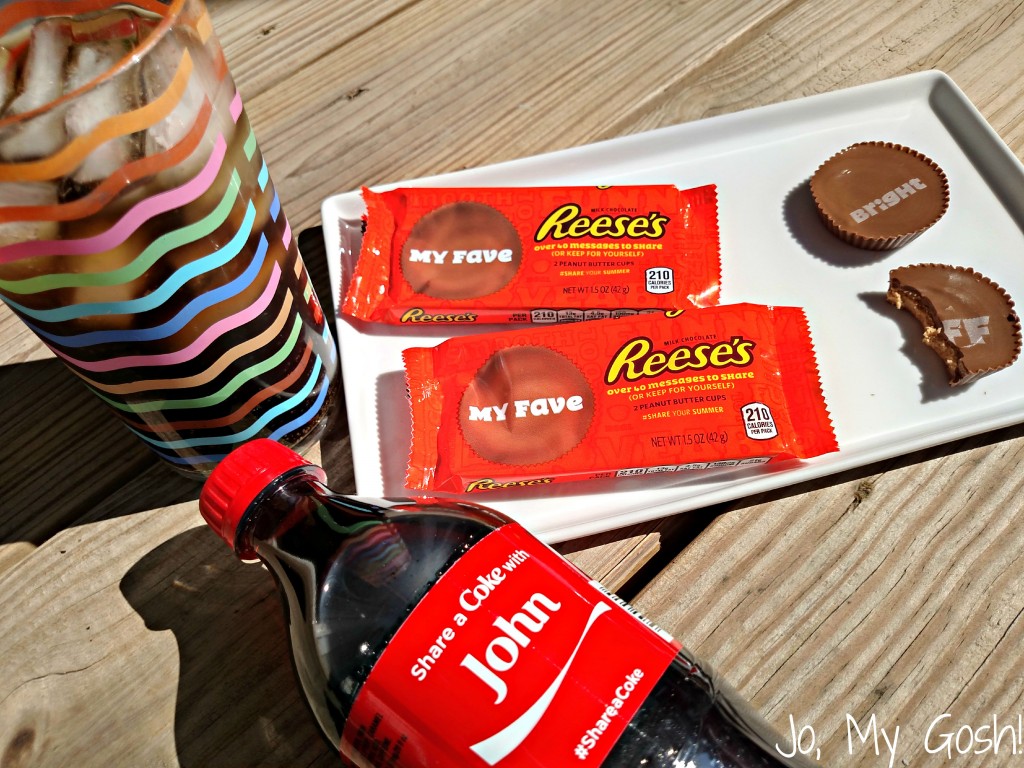 Who would you like to share a Coke and Reese's Peanut Butter Cups with?