It started like most fights: with something stupid. I don't even remember what we were upset about. I just remember standing in the kitchen, with a dishtowel in my hand, boiling with anger. John stood across from me and as we argued about whatever our dumb fight was about, one lone thought kept floating to the surface of my brain. Over and over again.
I felt like I was standing on the edge of a canyon, contemplating jumping.
And then I said it:
  "I gave up everything for you!"
I listed all of the things I gave up when we said "I do." My job, my career, my financial independence, my friends, my car, my ability to make decisions on where to live, the proximity to my family…
It all spilled out. Everything I had been holding back for a year.
And he had given up nothing. Nothing. His life hadn't changed dramatically. Just mine had.
That's exactly how it had felt for a year.
And, I'm not going to lie: it felt good. It felt really good. It felt really good to finally tell John exactly everything I felt that I had given up (which, was pretty much everything). It felt really good to make him feel the frustration and pain that had been boiling right under the surface since we had been married.
And then, about 4.3 seconds later, I felt horrible. (You knew that was coming, right?)
Because all of those things weren't John's fault. Not remotely. Sure, he had signed his life over to the military, but when he did, I wasn't in the picture. He only had to think of himself; he didn't know that circumstances were going to change. He didn't know how that decision would impact his future wife… because we weren't even dating at the time.
And when it came down to it, I would trade all of those things over and over again so we could be together.
And of course, I tearfully told him that.
But that moment was a turning point for both of us. Not that we were fighting all the time. Not that I was truly resentful or that he was clueless. But because the secret that I had been keeping since the early months of our marriage finally came to light.
He finally knew exactly why I was upset. Why such little things that I had control over bothered me if he did them. Why I felt so inadequate. He didn't have to try to piece it together anymore.
And because John is a much more amazing, forgiving, kind, and loving person than I, he gave me a hug and told me how much he appreciated all of those sacrifices. That they didn't go unnoticed. That he had never taken them for granted. And maybe that's what I needed and wanted to hear most.
Of course, I would rather have told him how I was feeling in a rational moment when we weren't arguing. But life isn't always nice and neat. Often it's messy and complicated. And often we make it harder on ourselves than we have to.
But I am glad that I said it because it's made our relationship stronger and our communication clearer. It's given us both equal footing in where we both stand emotionally when it comes to military life. It's given us the chance to build our relationship from a place of honesty. And it's helped me stop feeling like I have to be the perfect military wife. (After all, I'm already not. It felt good to get rid of the pressure.)
Communicating is tough. It's even tougher when it comes to military life. There are so many things that we can't control but that affect us, anyway. There are so many taboos on what what makes a "good military wife" or what you can and when you can have certain conversations with your partner. Forget them. This is your relationship with your spouse. Be loving. Be forgiving. But most of all, be honest.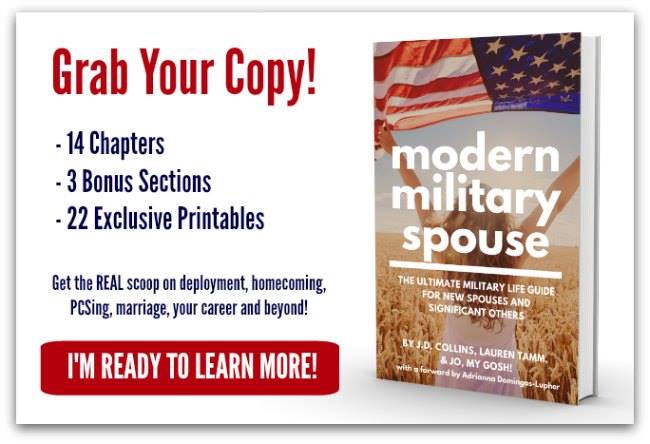 This is a sponsored conversation written by me on behalf of Unilever & Operation in Touch via MSB New Media. The opinions and text are all mine.