You guys know that I absolutely love care packages. LOVE care packages. But let's be real: they can take time, energy, and organization to make (not to mention money). And deployments can be hard on everyone in the family, not just the person who is away. There were plenty of times during John's deployment that I found myself really struggling to just keep up with regular life.
Sound familiar? (I really hope not… but I'm guessing you know that feeling.)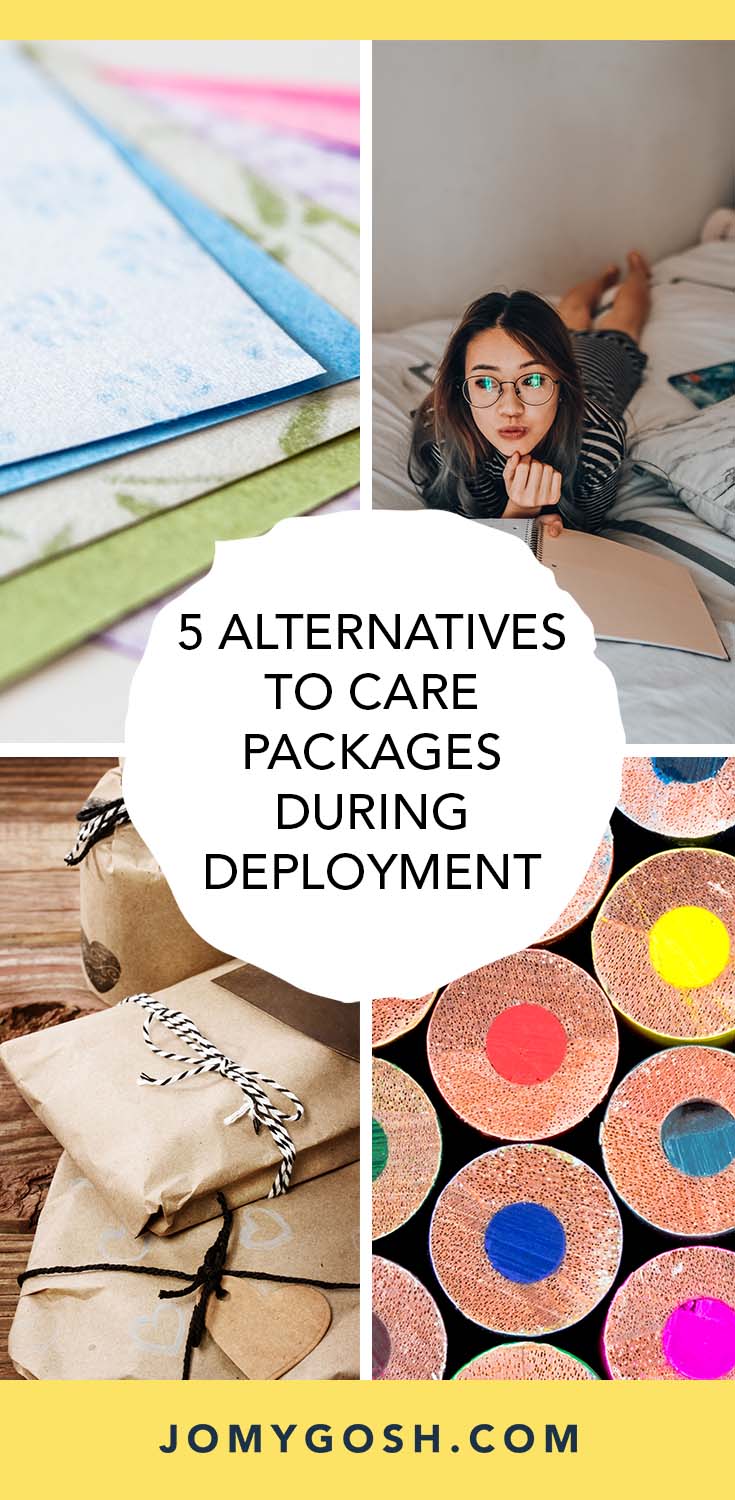 Whether you're just not able to keep up, you're not feeling very care packagey, or have another reason (which is obviously totally fine– you do you!), there are plenty of ways you can make your loved one who is far away feel loved and cared for without you having to do all of the heavy lifting. Check out these 5 easy-to-do alternatives:
1. Send a letter
I'm a huge fan of letters, especially during deployment. Not only are they a surprise for the recipient, they're something tactile that someone you love can touch that you also touched. When you're apart for a long time, those little gestures matter! Especially during deployment, make sure you number your letters so that your loved one knows what order to read them in… and also so they're alerted if any are missing. (Believe it or not, one of the letters I sent to John took six months to get to him… it made it to Afghanistan by way of Cuba.) If you're not sure what to write, make sure you check out my list of letter topics to get your creative juices flowing.
2. Use Sandboxx
Sandboxx–founded by a Marine veteran–offers the ability to send mail to service members directly from your phone. Your loved one will get a printed, tangible letter (that includes postage and paper for them to mail a return letter to you). You can include a photo, too– making the process of sending mail so easy there's really no excuse. Sandboxx's app is available for Android and iPhone and includes security features to make sure you're abiding by OPSEC and PERSEC.
3. Have someone else do the sending
Full disclosure: I absolutely love Troopster. Founded by a Navy veteran (who was active duty at the time of founding) who is also a military spouse and also a woman (yay, women-owned businesses!), Troopster actually knows what to send service members. Troopster is a full-service care package company that specializes in sending military care packages that have great items (think snacks, toiletries, and entertainment) that are as personalized and tricked out as you want. Boxes are themed and affordable (they start at $15!).
4. Record a video
Send a video message… or simply just tape parts of life that your loved one might be missing like rain storms, football games, a sunset in your favorite place. If your loved one has internet capabilities, you could always send the video as an attachment. If not, grab a cheap USB drive and fill it with videos. Just a reminder: never send anything that you're not okay with other people seeing or having it duplicated. The internet is forever, y'all.
5. Sign them up for a care package
There are tons of organizations who want to send your loved one a care package. You just need to let them know! You can learn more about those organizations here.
Looking For More Care Package Ideas? Try These: