One of my favorite breakthroughs– and perhaps the one that I'm most proud of– during the wedding planning process was taking an inadvertent stroll through Ikea and realizing that so many of the products that we were using for decorations were available at the Swedish superstore… and drastically cheaper than other stores, too!  It was exciting as I loaded up my cart (although returning to Kohl's and Michaels to make massive returns wasn't nearly as exciting later) and realized how much money we'd be saving on our wedding decorations.
Here, for your perusal, are the items that we purchased and the savings we garnered.
Hemsjo – A pack of four pillar candles for $1.99. These were just slightly smaller, but I had previously spent $7.99 for a three-pack at Michaels. It was a fantastic feeling taking back the Michaels' candles.
Savings: $64
Nyttja – A pack of two black picture frames for $2.99. I had bought almost identical black ones from Kohl's for $7.99 each and ended up returning them when I found the Nyttja at Ikea. We bought six frames– one for each photo of our parents and grandparents' weddings. We repurposed those pictures and frames and created a gallery wall in our apartment– so they did double duty!
Savings: $30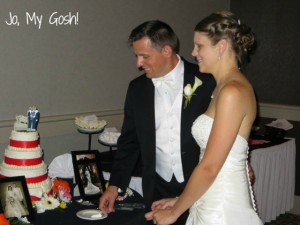 Sondrum  – One white picture frame for $3.99. We used these to frame our guestbook directions, card box note, and signature drink selections at the bar. Again, I had bought three white frames from Kohl's for $12.99 each.
Savings: $24
Haverdal– One white picture frame for $4.99. We used this 5×7 frame for one of our engagement pictures at our cake table. I had bought a white 5×7 frame similar to the Haverdal for $7.99 from Kohl's.
Savings: $3
Bumerang– A pack of eight wooden hangers for $4.99. I bought these to make personalized hangers for my  two maids of honor and three bridesmaids. I had a difficult time finding wooden hangers at all; however, the cheapest already personalized ones I could find were on Etsy and were $15 or more. If you're interested in how I made the hangers, check out this post about them!
Savings: $70
Bonus Find!
Glimma – 24 oversized tealights for $5.99. These are bigger than an average votive, and perfectly fit into the glass votive holders that I had bought on sale from Bath and Body Works. This wasn't necessarily a savings, so much as an exciting find. Previous to finding the Glimma candles, I couldn't find any that were big enough to fill the holders. These were perfect!
All told, we saved $191 on our decorations, just by swapping out some items and replacing them with almost identical ones from Ikea.
Pssst… Have you seen these other wedding posts?