Care packages are expensive. With a capital E-X-P-E-N-S-I-V-E.
Between the contents of the package and the shipping costs, it's easy to rack up a bill that is ridiculously huge. I mean, colossal. Especially if you might send care packages on a regular basis. Or weekly. Not that I know anyone who did that. (It's me. I'm anyone.)
For me, care packages were a tactile way I could send love and — dare I say it?– care to John while we were apart. It gave me something to focus my attention on, rather than just worrying or being upset. And it gave me a creative outlet, too. I knew that when John opened each care package, they would definitely make him smile. Or at the very least, he'd be well-fed.
So, I started learning how to cut the costs of care packages. (If you want to see exactly how I did that, check out these 40 ways to save on care packages.) And, believe it or not, it is possible to score free stuff… and even free care packages with just a little bit of work on your part.
The best part? This isn't a magical process or something that only I could figure out. You can do this, too. And it's a lot easier than you might think it is.
Free packaging and supplies
Let's start with the basics. When you create your care package, you'll need to have something to send it in. And weirdly enough, shipping supplies can be kind of pricey, especially when you add in the cost of postage.
While you could go out and purchase boxes, packing tape, and labels, there's a cheaper and better alternative. Did you know that the United States Postal System offers free care package kits? Seriously, they do. They're specifically for military care packages and can be ordered online or by the phone. These Military Care Kits come stocked with different sized boxes, packing tape, labels, and customs forms. (Don't forget– you also get a discount on shipping when you send by Priority mail through USPS to an APO/FPO/DPO address.)
Don't need the Military Care Kits? USPS also offer free postal supplies in bulk that can be ordered at online or by phone. And maybe the best thing of all? They will drop it off at your front door. You don't even have to go into the post office for pick-up, making your life a little easier and less complicated. Learn all of the details and order your own Military Care Kits and bulk supplies for free.
Free care packages
If creating care packages aren't your thing, that's okay– there are plenty of organizations that do make it their thing. Quite a few nonprofit (and for-profit) organizations offer to ship completely free care packages to your loved one.
For most of these organizations, you'll need to put your deployed recipient on a waiting list along with identifying information like their name, rank, and APO/FPO address. If you're not comfortable with disclosing this kind of information, this is most likely not an option for you. (And that's okay! Everyone has their own threshold for what information they share with outside organizations and people.)
Likewise, if you know that this deployment will be on the short-side (and fingers crossed that it is), putting your deployed person on a waiting list might not be the best option. It's possible that they won't get the care package by the time they leave.
Free care package contents
When it comes to getting free stuff to put in your care package, there are a few ways to go about it.
Couponing. If you're a dedicated couponer, you're used to stacking coupons to get free stuff all the time. Take those skills and make them work for the contents of the care packages you want to build. (Full disclosure: I am not a couponer. In fact, I can't wrap my head around it how to do all of the stacking and double coupon days. My hat is off to those who can!)
Kohl's Cash. If you're already a shopper at Kohl's, chances are, you have Kohl's cash in your wallet and have a Yes2You loyalty rewards account with Yes2You bucks in it. While technically not free–since you had to spend money to get your Kohl's cash– you still don't have to spend more out of pocket to fill your care package. Socks, underwear, and electronics are great buys at Kohl's with Kohl's cash. And keep an eye on crazy sales where they give more Kohl's cash or double or triple your points for their loyalty program, Yes2You. If you go over your Kohl's cash value, make sure that you're shopping on Kohl's new Military Monday. (Learn more about how you can save even more at Kohl's nationwide through their new military discount initiative.)
Asking.  Many businesses offer free items– either as physical products themselves or as coupons– for care packages… if you just ask nicely. Spending a little bit of time online to find a "contact us" email of your loved one's favorite foods or products could bear huge rewards. For example, when John was deployed to Afghanistan, I sent Starkist a request for tuna pouches. Not only did they respond and send a sample… they sent an entire box filled with single-serving tuna kits that John was able to eat and share with coworkers. And sometimes, a face-to-face interaction works wonders. I once approached Chick-Fil-A for their sauces for a care package to a friend in Japan. I was hoping for a few; they gave me an entire bag. Another time, Panera surprised me completely. You can read my story about how a local Panera absolutely made my day (and my jaw drop) with their generosity when I casually mentioned John's deployment. Not sure where to start? These eight businesses send stuff to service members if you ask… and here are nine more, too.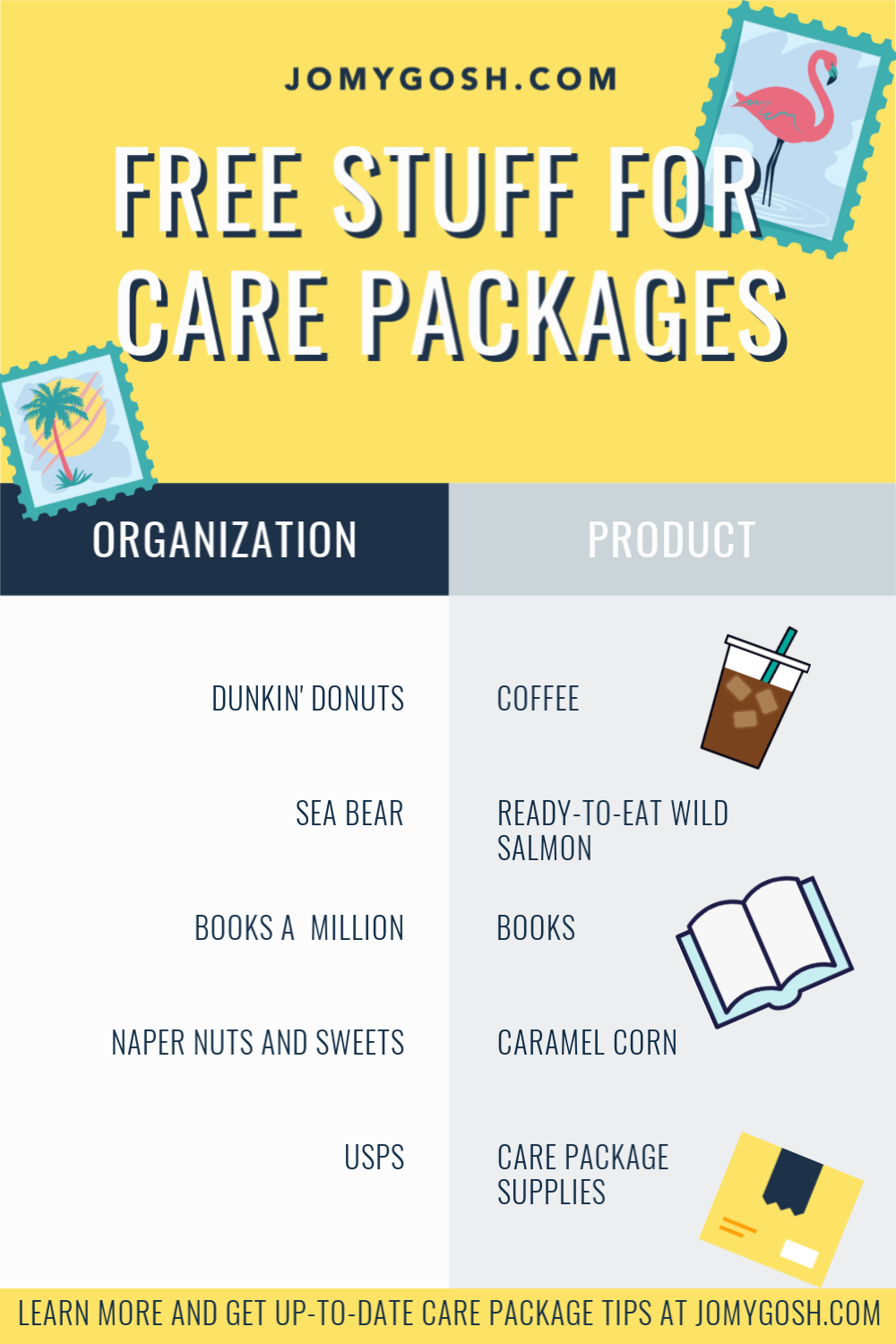 Not-completely-free-but-still-discounted options
If you're making a purchase online or in-person, make sure that you're utilizing these three savings apps and programs:
Rakuten (formerly Ebates): If I make any purchases (online or in real life), before I do anything else, I always check for cash back on Ebates. Over the past four years, I've gotten more than $1,000 back through purchases. And honestly, there are no strings attached. Ebates used to be completely online, but you can actually use it in person as well, which is pretty awesome. The cash back comes by check or by PayPal (you choose). The cash back you get is on top of any other sales, promotions, rewards programs, or any other savings that you get through the store, as well. Sign up for free and start getting cash back right now. (Spend $25 and get $10 back right away!)
Ibotta: Save even more by using Ibotta, a cash back app that can be used at most grocery stores, including the commissary. Ibotta has expanded into other kinds of stores and services. Like Ebates, you can stack sales, coupons, and rebates from Ibotta together. Cash out instantly through PayPal or Venmo when you hit $20, or choose gift cards.  Sign up today and get an extra $10.
Honey: Like Ebates and Ibotta, it offers a way to get a little extra back on purchases. Instead of percentages, you earn points back on what you buy. Cash your points out for gift cards. Go here to sign up for Honey and start earning points towards gift cards just by buying the stuff you were already going to.
Ready to jump in? Make sure you read these: