It's time to fill that care package!
A common thread I hear from military spouses and significant others: I'm at a loss for what to send! I don't know what to send my boyfriend (or girlfriend). I'm totally lost!
I get it– it can be intimidating, especially with Pinterest and Instagram perfect ideas scrolling on your phone. Sometimes it can be overwhelming too; a blank box can often feel like a blank canvas. And what you are hoping to be a care package for a boyfriend or girlfriend or husband or wife seems overwhelming instead of joyful.
Don't worry. I've got you.
A bunch of care package ideas for you
Here's a list of more than 150 care package ideas to choose from and it's a great jumping-off point if you're not sure how to get started. This list is broad and could be used for anyone sending a care package– to a college student, military personnel, or a missionary– so make sure that you know what guidelines and restrictions you are shipping under.
Also remember– you know your recipient best! Ask them what they want and need– their suggestions will always be better than a generic list. (No matter how awesome that list is!)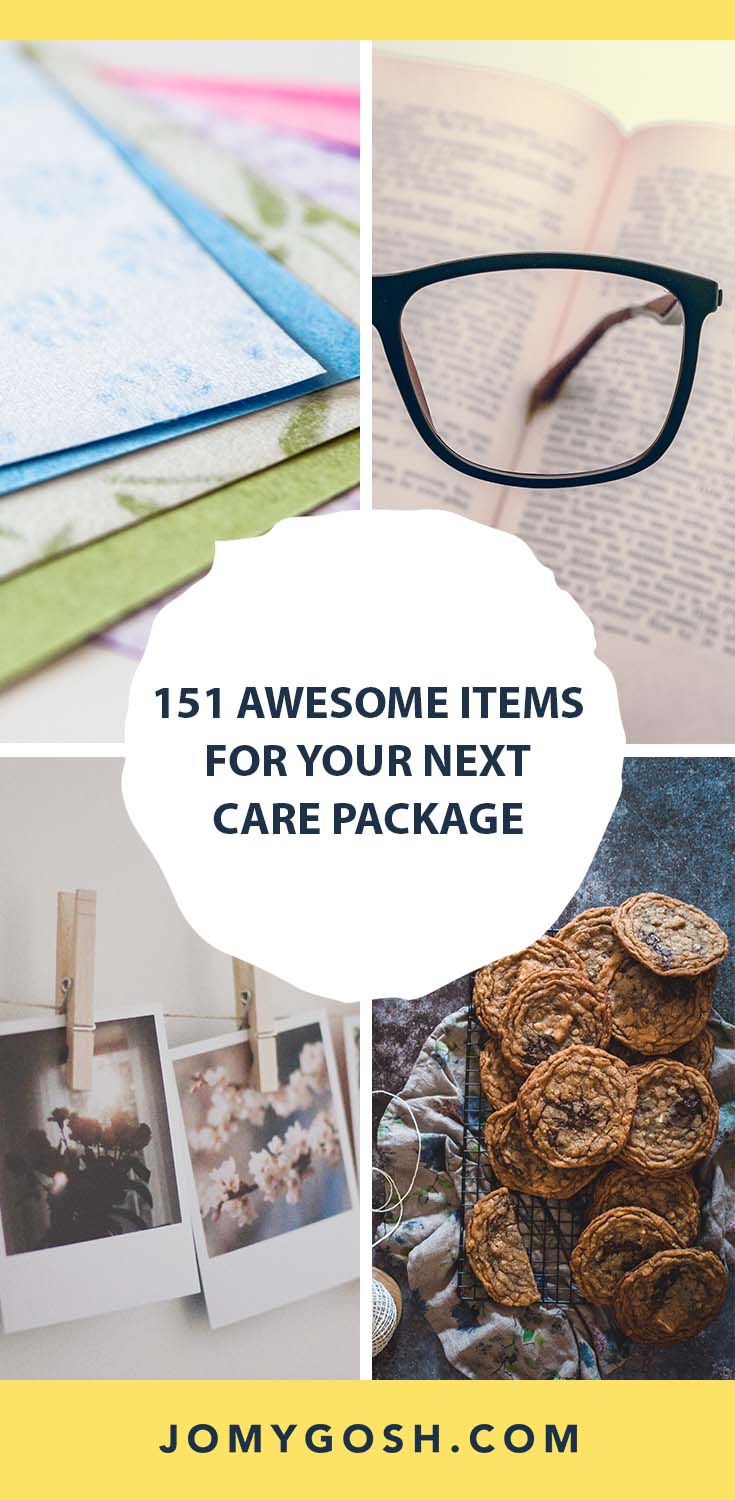 And happy, happy shopping, filling, and sending!
Care Package Ideas: Self-care and beauty supplies
Military Care Package Tip
If you have contact with your loved one, it's best to check with them to see what they need and what they can store. During some deployments, you might find that your loved one has access to the supplies they need and want through a well-stocked USO or Exchange. During other deployments, your loved one might be in leaner circumstances and be far more dependent on your care package shipments.
College Student Care Package Tip
Before your college student leaves for school, ask them to write down their favorite scents and brands of self-care products. This list will come in handy for you as you shop (and make it super easy to know that your money and time are being well-spent). Be sure to check-in with them every so often in case their tastes have changed. If your college student can't easily get off campus or doesn't have access to shopping, ship these products. Otherwise, consider sending them a gift card to Target or Walmart or putting them on Amazon's Subscribe & Save subscription service so you're not spending extra cash on postage and shipping.
Missionary Care Package Tip
Similar to care packages for the military, make sure that the missionary you're sending to needs the things you're sending… and that you're sending things they will actually use (or share). If they're able to easily purchase supplies they need, consider sending funds since their local purchases will help them get to know the people in the community they're serving and will also give them the opportunity to support the local economy.
If you're looking themed care package ideas, check out these suggestions for a hygiene package!
Body wash
Athlete's foot powers, ointments, or creams
Tums
Aspirin/Ibuprofen
Floss
Toothbrushes
Toothpaste
Mouthwash
Hand/face lotion
Nail clippers
Nail file/emery board
Deodorant
Razors (handles and blades)
Tissues
Shampoo
Face wash
Conditioner
Baby wipes
Eye drops
Contact solution
Insect repellent
Lip balm
Chapstick
Bag balm
Sunblock
Q-tips
Lozenges
Hand towel
Full-sized towel
Shower puff
Washcloth
Feminine care products
Care Package Ideas: Gifts and comforts
No care package is complete without some fun surprises that make home feel a little closer for your loved one. Creature comforts and homey touches don't have to be expensive, bulky splurges. So many of these items are inexpensive, homemade, and small– tucked into the top or side of a box.
Military Care Package Tip
Military mail can often be delayed, depending where your loved one is serving and how they are serving. If you're sending an anniversary or birthday care package full of mementoes and fun reminders of home, make sure you're generally shipping 21-30 days ahead of time. (So if you're sending a Halloween care package for October 31, pop it in the mail around October 1-7.) For Christmas and holiday care packages, check with the United States Postal Service to see their recommendations for the season.
If your loved one is serving in a very remote area, learn about the expectations and best practices before they leave. How often are they expected to get mail service? What kinds of things will they need that they might not on other deployments? Are there restrictions particular to their deployment? You may have to get creative with what you send and how you send it.
College Student Care Package Tip
Keep in mind that you're sending a care package to a college student who (most likely) lives with someone. Depending on your relationship with your college student, you'll want to be careful of what information you divulge through the kinds of gifts you send. For example, Mom, you should probably not send photos of naked baby pictures. For many students, college is a time of learning more about themselves and meeting peers. Make sure that you're not hampering that with embarrassing gifts.
You also want to make sure that you're keeping the school's schedule in mind. When are breaks and finals weeks? You don't want your care package to sit in the mail room for weeks (or even months).
Missionary Care Package Tip
Make sure you know the rules that your missionary is serving under. Depending on what they've agreed to abide by, they may be living a very spartan life without many creature comforts. If you're able to, ask before they leave. If you're not able to contact them directly while they're serving or do some digging on your own online or through their religious group so that you know what you can and can't send in a missionary care package, especially when it comes to gifts.
Physical pictures
USB drive with photos and videos
Small photo album (Or try your hand at a photo-a-day journal!)
Encouragement book
Letters/notes
To-go insulated coffee mug
Envelopes
Journals
Notebooks
Writing utensils
Pencil sharpeners
Stationary
Tablets
Hand/feet warmers
Hot water bottle
Sunglasses
Gift cards
Calendar (You could make your own!)
Small packets of washing detergent
Flashlights
Mesh laundry bag
Devotional
Religious texts (Or include your own favorite verses and prayers. Here are some Bible verse suggestions if you are Christian.)
Fleece pullover
Care Package Ideas: Entertainment and athletics
Even during deployment, there is some downtime. Depending on the interests of your loved one, where they're deployed, and storage they have access to, some, all, or none of these suggestions might be appropriate for them. Some of these items can be sent digitally, too, if your loved one has access to the internet.
Military Care Package Tip
Ideally, you might want to know a little bit about what your loved one's deployment situation is like. Some entertainment and sports items might just be completely inappropriate or unusable depending where they are. They might also have access to some of the items already mentioned, so you'll want to check. If you're not sure, make sure that the things you send are universally usable (like a Sudoku book) instead of something that might not be (like posters).
College Student Care Package Tip
It's possible that college students can figure out how to entertain themselves no matter where they are or what they're doing. But they're usually pretty short on cash. Consider sending a mini care package with a gift card or a few bucks to help them plan the next way they're going to blow off steam.
Missionary Care Package Tip
Again, you'll want to know what their life and rules are for serving are. Pay particular attention to magazines, books, and posters if you're sending these. Are the pictures and topics following allowable guidelines? Even if you're using your judgment, the organization your missionary is working with may have very strict stipulations. Know them before you send so your care package isn't putting your missionary in an awkward position.
Batteries
Tennis balls
Hacky sacks
DVDs
Card games
Puzzles
Sudoku/Crossword/Puzzle books
Books
Magazines
Newspapers
Sneakers
Other sports equipment
Cotton socks
Gel insoles
Posters/small room decorations
Headphones
Care Package Ideas: Food and drink
What is more comforting and wonderful than getting food from someone you love? (My love language is DEFINITELY food.) If you're making food, you'll need to be very careful about packaging it so that you're not accidentally sending a box of mold. That would be awful. Make sure that you know the basics of sending food correctly before you head to the post office. And if you're ready to take on sending homemade food, you'll want to try these tried-and-true recipes from military spouses.
Looking for healthy care package ideas? Download this list of 72 health foods that can be shipped in care packages and then check out these suggestions for a healthy care package.
Military Care Package Tip
Military mail can often be slower, which means you can't always be sure when your recipient will be getting your package. Pay special attention to the foods you're sending– will they mold fast? Are you sure they're shelf-stable? Could they melt and create a mess? If you're afraid your food could be a problem with slower shipping times, make a few swaps:
Change out chocolates or other products prone to melting with one of these alternatives. (If you simply must send chocolate, sending it during cooler months is a better option than sending during hot months.)
Replace foods that are not shelf-stable with pre-packaged foods or avoid sending food. Sending spices and powdered drinks or water additives (like flavor drops) are always a good option.
If you really want to send homemade foods, pick recipes that are dry (or as dry as possible). Think crispy cookies instead of moist cakes.
College Student Care Package Tip
Your college student's circumstances will determine the kind of foods you'll send in the care package. If your college student has access to a meal plan, they may not need (or want) certain foods. In these situations, sending homemade or sentimental foods might be a great option for your college student.
If your college student does not have a meal plan, your care package may provide more than a fun surprise– it might help them supplement their food budget. If that's the case, consider sending them a gift card to Target or Walmart or putting them on Amazon's Subscribe & Save subscription service for some of their necessities.
Missionary Care Package Tip
Your missionary may not want foods from home as they experience the region and culture they're serving in. Check in with them first, before you send anything. Similar to the care package tips for military, you'll want to consider the time shipping will take, the climate you're shipping to, the ability for your missionary to store the foods you're sending.
Single servings of canned fruit (You can theme your whole package around fruit!)
Single servings of canned veggies
Beef jerky
Peanut butter
Jelly
Marshmallow creme
Oreos, Nutter Butters– you know, the cookies that could outlast a nuclear winter
Cake in a jar
Cookies (Use a vacuum sealer, and you're golden!)
Brownies (Ditto about the vacuum sealer!)
Single-serving tuna packets
Tuna lunch kits
Dried fruit
Nuts
Granola bars (Try this recipe!)
Loose granola
Homemade nut mixes (Try this recipe!)
Crackers
Cracker sandwiches
100 calorie snacks
Gum (the kind in blister packs keep better!)
Mints
Hard candy like Lifesavers or Werther's
Sunflower seeds
Cereal bars
Trail mix
Popcorn
Healthy bars (protein, power, nutrition) like Clif Bars, Luna Bars, LARA Bars, etc.
Ramen noodles
Mac 'n' cheese in a cup
Ravioli, Spaghetti-O's, etc.
Salt and pepper (packets or the shakers– you know what your recipient needs!)
Seasoned salt
Packets of ketchup, mustard, relish, mayo, etc. (Send these in a sealed Ziploc bag!)
Seasoning packets (ranch, Italian, etc.)
Spices
Dried herbs
Fruit snacks/fruit leather
Coffee
Packets of powdered coffee creamer
Packets of sugar/sugar substitutes
Single-serving 0 calorie drink mixes
Liquid drink and tea mixes (Mio, Lipton's, etc.)
Sports drink mixes
Hot chocolate mix
Tea bags
Lemonade mix
Kool-Aid packets
Protein powder
Tang
Iced tea mix
Salsa
Instant oatmeal
Pretzels
Pita chips
Popcorn chips
Cereal
Care Package Ideas: Military items
While your loved one will most likely have access to these items through the Exchange in case they need to replace them during the deployment, it's always helpful to know what brands and sizes they need in case you might have to send them.
Pro tip: You'll also want to check with your deployed loved one for other items that they may need; after all, this isn't an exhaustive list. Every service member will have different items and brands they need or prefer. If your service member has a lot of preferences, ask them to write down a list of items they might need during the deployment, sizes, brands, and other information you might need.
Socks for boots
Undershirts
T-shirts
Boot bands
Long underwear
Knit hats
Gloves
Safety glasses
Bootlaces
Underwear

Looking For More Care Package Tips?  Try These Articles: